The Office of Alumni Relations is dedicated to fostering a strong and vibrant network of graduates of Columbia Journalism School. We offer a range of benefits and services to our alumni, including networking events, career development resources, and opportunities for lifelong learning. Connect with us to stay engaged and tap into a supportive community of fellow graduates!
For more information, contact Kelley M. Spencer, Director of Alumni Relations at [email protected].
Journalism School alumni have access to an assortment of benefits and services including:
12twenty, our password‐protected job listing database
Book and computer discounts
Cultural discounts
Lodging discounts
Access to reception and meeting facilities
Lifelong learning programs
See the full array of resources offered by the Columbia Alumni Association.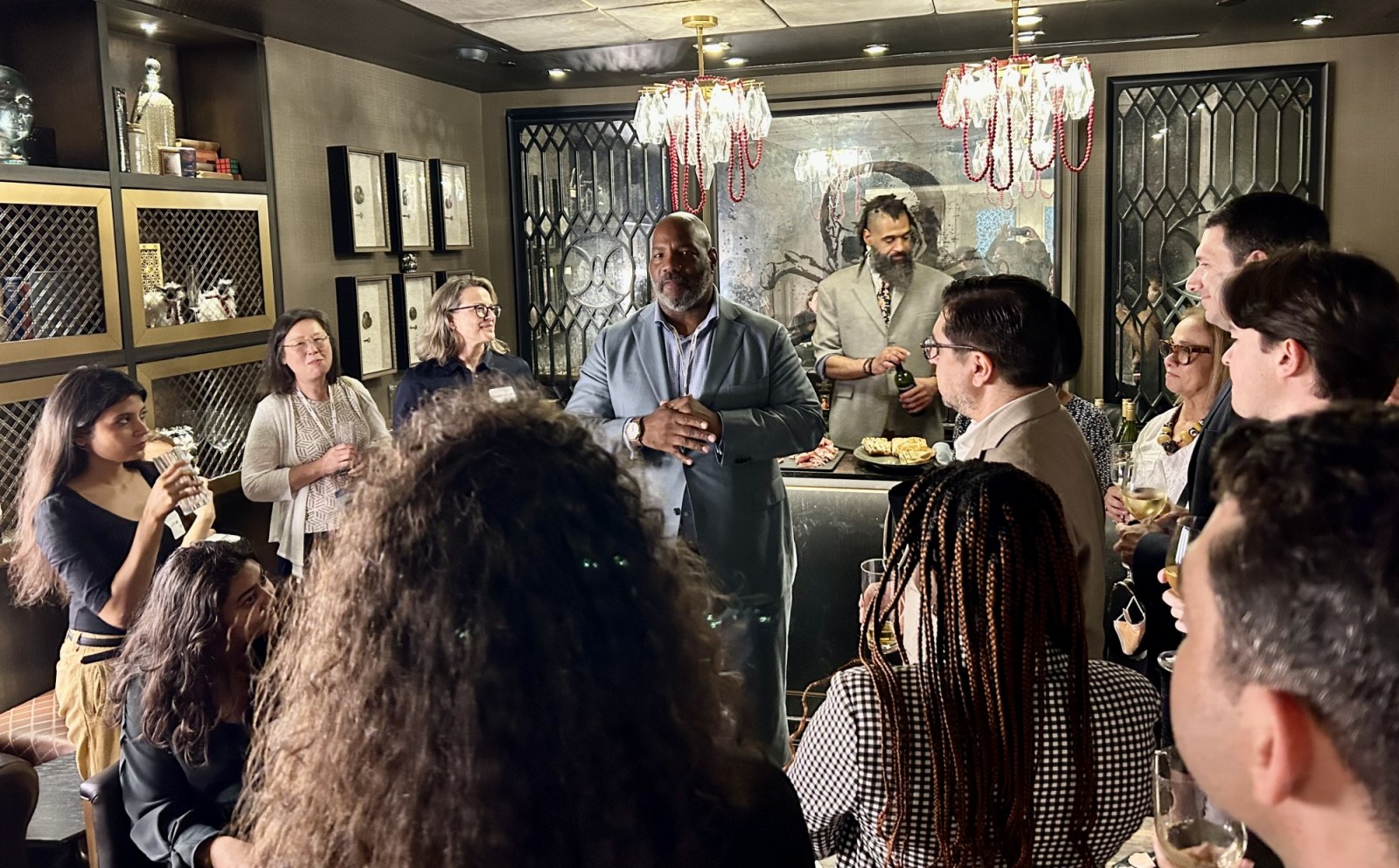 Columbia Journalism School Alumni Board
The Columbia Journalism School alumni board is representative of the J-School alumni body. Members work closely with the Alumni Relations Office to establish and to serve as a connection between the J-School and its 15,000 alumni.
Meet the Board
CHAIR
Rex Smith '80, Writer and Creator, The Upstate American
VICE CHAIR
Andrew Seaman '11, Senior Managing Editor for Jobs and Career Development, LinkedIn 
MEMBERS
​Lauren Betesh '13, Volunteer Video Producer, Columbia Journalism School
Elena Bowes '89, Freelance Travel and Design Writer — London and New York City
Richard Chacón '93, Director of News Standards, NBC
Vladimir Duthiers '11, New York Correspondent, CBS News 
Sophie Guité de Seynes MA '06, MPhil '08, Ph.D.'11, Portfolio Specialist on Morgan Stanley, Investment Management's Global Multi-Asset Team
Anup Kaphle '08, Executive Editor, Rest of the World
Liz Borod Wright '00, Social Media Director, Richard Attias & Associates
Regional Representatives
ASIA
Kavita Chandran Budhraja '98, Trainer and News Content Advisor, Singapore
Nicole Neroulias Gupte '02, Executive Editor & Nonprofit Communication Consultant, New Delhi
CALIFORNIA
Linda Himelstein '87, Independent Journalist
Lila LaHood '98, Publisher, San Francisco Public Press,  California
Darren McDermott '92, Partner and co-Head, the San Francisco Brunswick Group
Andy Reinhardt '88, Health and Higher Education Editor, San Francisco Chronicle
OHIO
Heather Cabot '93, Author and Speaker
SOUTH AFRICA
Zubeida Jaffer '96, South African journalist and author
SOUTH AMERICA
Daniel Matamala '12, News Anchor, Chilevision and a freelance columnist for La Tercera, Noticias de Chile
WASHINGTON, D.C.
Rhonda Colvin '13, Capitol Hill Reporter, The Washington Post
Kathy Gest '70, Communications Trainer, Public Affairs and Advocacy Strategist, Editor and Writer
Rishi Iyengar '14, Technology Writer, CNN Business in San Francisco
Rosiland Jordan '90, State Department, Specials, and Guantanamo Correspondent, Al Jazeera English
Tesfaye Negussie '08, Digital Video Producer and Reporter, ESPN's The Undefeated
WISCONSIN
Tamia Fowlkes '23, Public Investigator, The Milwaukee Journal Sentinel