The John Chancellor Award for Excellence in Journalism, founded in 1995, is presented each year to a reporter with courage, character and integrity for cumulative professional accomplishments. The prize honors the legacy of pioneering television correspondent and longtime NBC News anchor John Chancellor. #ChancellorAward
Phil Williams — 2023 John Chancellor Award Winner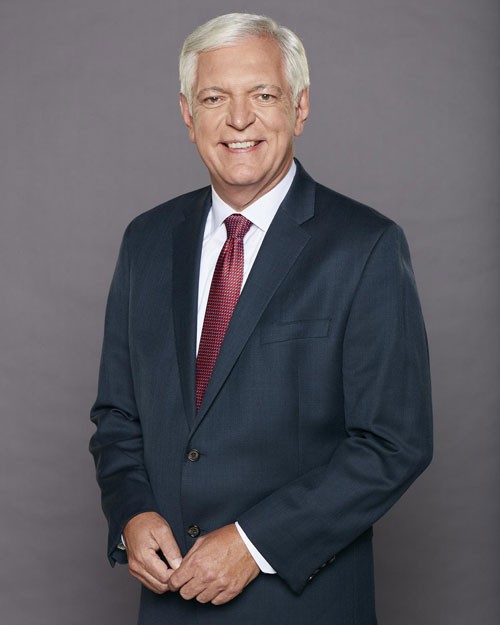 Phil Williams, chief investigative reporter at NewsChannel 5, Nashville, is the recipient of the 2023 John Chancellor Award for Excellence in Journalism.
For more than three decades, Phil Williams has set the standard for serious investigative journalism on the state and local level, making a difference in his community year after year, and earning him the industry's highest honors and praise from his peers. Reviewing Phil's most recent project, one judge declared that "this is what a great local news investigation looks like." Political scientist Norm Ornstein has called Phil's work "a model of great journalism."
Phil Williams' professional life has been focused on responsible and relentless journalism that makes a difference, and the impact of his work is vast. His investigative work has sent dozens of people to jail, led numerous political figures to resign, and changed laws to promote safety, fairness and good government. Because of Williams's history of investigating powerful people who do not take well to their secrets being exposed, he has faced five retaliatory lawsuits in his career; no lawsuit against Williams or his work has been successful, and he has not been swayed by threats to his life nor retaliation through the courts.
Williams has by choice focused his world-class talent and renowned work ethic on improving the community where he grew up. As John Chancellor began his career in local broadcasting, it is fitting that Phil Williams be recognized as the first local broadcaster honored with this award.
How to Enter
Nominations for the 2024 John Chancellor Award will open in March of 2024.
To be entered for consideration, journalists must be nominated. The nominator will need to fill out the Chancellor Application form.
For print nominations: a pdf file with legible pages of the nomination material is recommended.
For broadcast nominations: a list of working permanent links to programming is recommended.
Required supporting materials:
A nominating letter by someone other than the journalist that includes a brief summary of journalistic accomplishments. The Chancellor Board looks for sustained journalistic accomplishments over time, where the journalist's reporting as a whole is greater than any single story he or she may have covered. Please explain the impact of the reporting.
Nominations may have up to three letters of support.
Resumé or CV, including any major awards received.
Provide 5­-10 examples of the person's best work:
Newspaper/Magazine Nominee: 5­-10 significant newspaper or magazine stories by the nominee. Please link to stories or include PDFs. If sending PDFs please include articles in the original layout, if possible. Photocopies of PDFs must be easy to read.
Broadcast/TV or Radio Nominee: 5­-10 significant broadcast stories by the nominee. TV and radio stories should be submitted just as they aired, without reediting. Contact the Chancellor Award office for coverage of breaking news stories, if applicable. Please provide links to stories.
This award is intended for a journalist whose principal audience is in the U.S. If the original reporting is in a language other than English, transcripts or subtitles in English must be provided.
About
The recipient of the $25,000 John Chancellor Award is selected each year by a distinguished panel of journalists who look across the media landscape to identify a reporter who may not be widely known by the public but who is highly respected within the profession for the caliber of his or her work.
The award was established in 1995 by Ira A. Lipman, founder of Guardsmark, LLC, one of the world's largest security service firms. Lipman provided a gift to Columbia University to support the John Chancellor Award for Excellence in Journalism and to fund scholarships at the Columbia University Graduate School of Journalism. The Chancellor Scholarships provide significant financial aid to students who have the leadership qualities exemplified by John Chancellor.
Ira Lipman became a lifelong friend of John Chancellor after the two met in Little Rock, AR, in 1957. Chancellor, the NBC News correspondent in Little Rock, was reporting on the desegregation struggle at Central High School, and Lipman became Chancellor's trusted source. Shining a national spotlight on this gripping regional story, the quality of Chancellor's informed and insightful reporting propelled him to national attention. He became an anchor of NBC's Today program and an anchor and commentator for NBC Nightly News. Chancellor is best remembered for the depth of his reporting and his rare personal grace and civility. Lipman subsequently founded Guardsmark, LLC.
The Chancellor Scholarships were awarded for the first time in August 2005, and are currently providing financial assistance for M.S. students. The criteria for scholarship assistance are financial need, academic achievement and commitment to leadership in print or broadcast journalism.
Ira Lipman passed away on September 16, 2019, at his home in New York City. 
Selection Committee
Mary Chancellor, Chancellor Family
Jelani Cobb, Dean and Henry Luce Professor of Journalism, Columbia University Graduate School of Journalism
Cheryl Gould, Former Senior Vice President, NBC News
Hank Klibanoff, Director of the Journalism Program, James M. Cox Jr. Professor, Emory University
Michele Norris, Opinion columnist, The Washington Post
Lynn Sherr, Former Correspondent, ABC News
Bill Wheatley, Former Executive Vice President, NBC News
Mark Whitaker, Former news executive, CNN, NBC News and Newsweek
Contact
Sign up for the Columbia Journalism Awards quarterly newsletter to receive information on prize open and close dates, entry requirements, and prize winners. Our newsletter is the best way to stay in the know on all things related to the journalism awards at Columbia University.