"Journalism is a calling.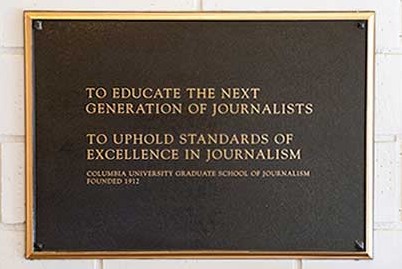 In the lobby of Pulitzer Hall, the inscription is our mandate: to educate the next generation of journalists.
And we take that mission very seriously. That is why affordability has been my top priority since I became dean of Columbia Journalism School. We must make it possible for the best journalists to get the highest caliber journalism school education, here in Pulitzer Hall, and be able to afford to choose journalism. Our work is a public good—one that is now more vital than ever.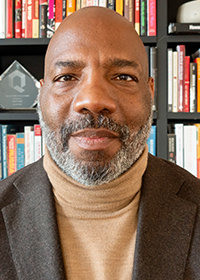 Gifts from alumni and friends provide Columbia Journalism School with immediate current-use financial resources to execute these initiatives. With your support, we can make the J-School affordable for a more diverse student body. We want an institution that's even more representative of the world that journalism covers. With your help we can give the next generation the opportunity to go into—and stay in—journalism. Your partnership in this effort is crucial—together, we can ensure that our students continue to fulfill our mission to uphold the standards of excellence in journalism."
— Jelani Cobb, Dean and Henry R. Luce Professor of Journalism
Where to Give
The Journalism School's mission to educate the next generation of journalists has never been more important than today. Your gifts make it possible to support our students and faculty and have never been more relevant to our success.
How to Give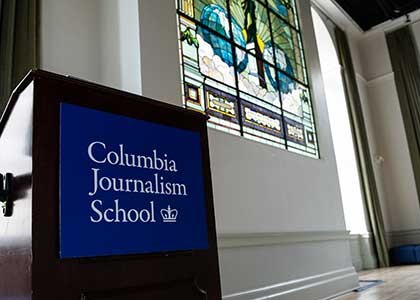 Check
Make checks payable to Columbia University and, to ensure that they are properly credited, please include a note that your gift is in support of the Columbia Journalism School and send to: 
Columbia Alumni Center
Attention: Gift Systems
622 West 113th Street, MC 4524
New York, NY 10025
Wire Transfer
Contact Cynthia Helton at [email protected] or by phone at (212) 854-1148 for wire transfer instructions.
Securities
If your bank or broker holds your securities, we recommend an electronic transfer in two steps via the Depository Trust Company (DTC) system.
 
Give your bank or broker the following instructions:

Bank of New York Mellon
DTC# 0443
Pershing, LLC
For Credit to Account: N7M100061
Account name: Trustees of Columbia University
 
E-mail transfer details to

[email protected]

, alerting Columbia to expect your gift. Failure to do so may cause a delay in recognizing you as the donor. Please include the following information in your e-mail:

Name and address
Name and ticker symbol of the security
Number of shares
School or department gift fund to be credited
Matching Gift
You can increase the impact your gift has at the Journalism School by adding a matching gift through your employer. Many employers offer this benefit You can check if your employer is one of them on our matching gift website.
Planned Giving
Planned gifts, including bequests and life income gifts, are designed to help meet your financial and charitable goals while supporting Columbia Journalism School in the long term.
Email Cynthia Helton at [email protected] or by phone at (212) 854-1148 for more information.
Recognizing our Supporters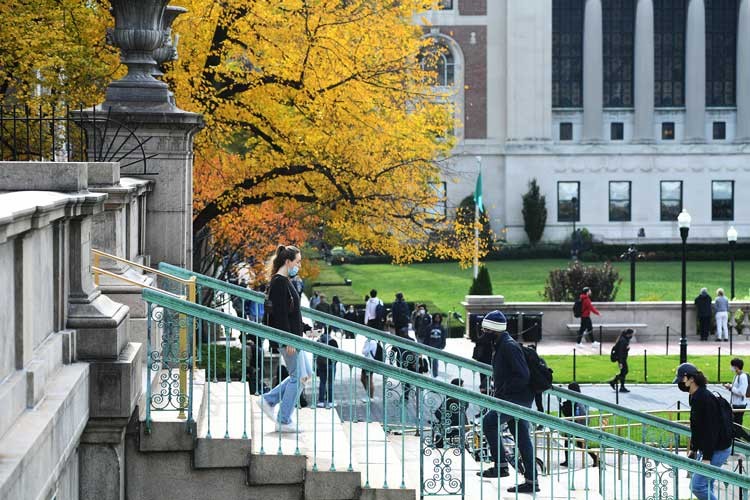 Our most dedicated supporters become members of our leadership societies, the Dean's Circle and the Pulitzer Circle.
Dean's Circle
Dean's Circle members are​ the most generous donors​ to the J-School each year.​ Their support creates​ meaningful scholarship​ packages for exceptional​ students with financial​ need. In fact, Dean's Circle​ members provide 90 percent​ of the new scholarship dollars​ contributed each year. Donors qualify for the Dean's Circle with cumulative gifts of $1,000 or more ($500 for graduates from the last 10 years) to the Annual Fund within a given fiscal year (July 1 to June 30).
If you would like to support a student directly and see your impact firsthand, join the Dean's Circle with a gift of $5,000 or more. We will name a one-year scholarship in your honor or in honor of someone who inspires you. We will connect you with your scholarship recipient so you can hear how meaningful your gift has been.
For more information, contact Emilie Dufour at [email protected] or at (212) 851-7766.
Pulitzer Society (Planned Giving Society)
Supporters who include the Journalism School in their planned giving - be it through a bequest or a beneficiary designation or by establishing an annuity or trust, become members of our legacy society named after our funding legacy donor Joseph Pulitzer - the Pulitzer Society. We will recognize your thoughtful gift by inviting you to special events and sending you communications through the University's 1754 Society, the university-wide planned giving society.
For more information, email Cynthia Helton at [email protected] or by phone at (212) 854-1148,