Events and Endeavors during Climate Week NYC 2023 at Columbia Journalism School
"It is vital that current and future journalists really understand how to report on climate issues," said Professor Duy Linh Tu. "The science is complicated, and the politics and misinformation of the day make it increasingly important for journalists to get it right." 
September 18, 2023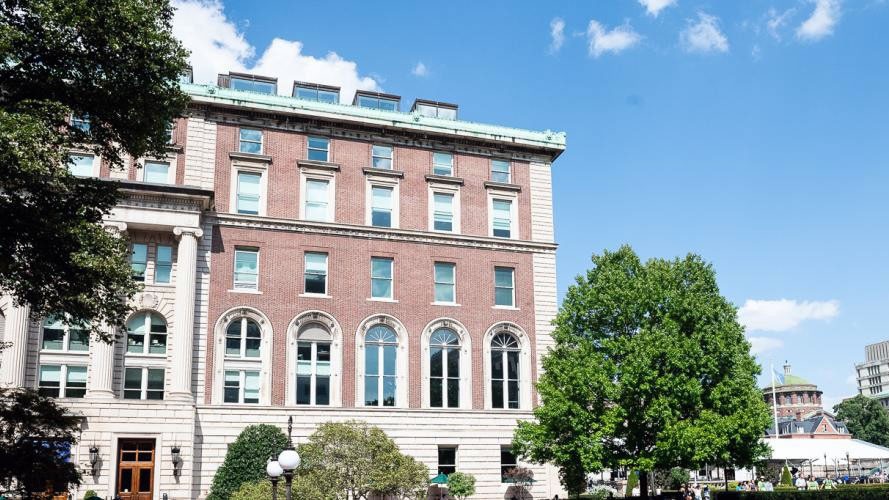 Columbia Journalism School knows how pivotal journalists are in communicating the current state of climate change. Journalists serve as a bridge between complex scientific research and the general public, reporters not only translate facts into an accessible narrative — they humanize the crisis.
In this vein, CJS is dedicated to preparing the next generation of journalists to take on this challenge. "It is vital that current and future journalists really understand how to report on climate issues," said Professor Duy Linh Tu, a journalist and filmmaker who worked with Scientific American to develop the award-winning short film The Carbon Cage. "The science is complicated, and the politics and misinformation of the day make it increasingly important for journalists to get it right." 
This year has already seen some of the most damaging floods, wildfires and weather events in history. Journalists will be the ones contextualizing these events: it's more than explaining what's happening on the ground, but what it implies for our changing world.
"There's really no margin now for error in our reporting, and Columbia Journalism School needs to be a force for training journalists to cover climate better than ever," Tu continued. 
Where CJS Stands
"We are fast approaching the moment when every reporter is going to have to also be a climate reporter. The changes in our world are too fast and too newsworthy to avoid." says Columbia Journalism Review Editor and Publisher Kyle Pope. So, CJS is leading the charge and challenging the way our climate is currently covered. The Columbia Journalism Review co-founded Covering Climate Now, a collaborative media organization that helps over 500 news and media companies cover the defining story of our time with the rigor and urgency it deserves. Pope believes that it is "a great opportunity for individual journalists and for institutions like CJS and CJR… This is a story we should run towards rather than away from. That's one of the reasons why CJR is a co-founder of Covering Climate Now, a media collaborative helping newsrooms around the world better tell the climate story, and we're a sponsor of a major climate conference this week, Climate Changes Everything."
CJS is also home to Columbia Journalism Investigations. Our teams of experienced investigative reporters and postgraduate reporting fellows partner with leading news organizations to produce deep investigations into urgent matters of public interest — including pieces holding ExxonMobile accountable for what they knew about the impact their work had on the environment. A 2022 CJI investigation, "Harm's Way," done in collaboration with The Center for Public Integrity, Type Investigations and multiple local partners, revealed the U.S. federal government's lack of responsiveness to climate change-driven relocation, and its neglect of communities most threatened by rising seas or intensifying disasters yet least able to move on their own. Media partners from California to Hawaii, Kentucky, Mississippi and Washington state were able to use CJI's unique data analysis to support their own local reporting.
CJS houses the John B. Oakes Award for Distinguished Environmental Journalism; it is given annually for news reporting that makes an exceptional contribution to the public's understanding of environmental issues. For more information about the Oakes Awards, and the 2023 winners, visit https://journalism.columbia.edu/oakes. To learn more about the 2023 Oakes ceremony and panel discussion on September 18, contact [email protected].
About Climate Week 
Join CJS for the 15th year of Climate Week NYC — held from September 17th to the 24th, Climate Week NYC returns as the largest global event of its kind. Its events program plays a vital part in the week and in building and maintaining global momentum around climate action. 
This year, Pulitzer Hall is hosting several events throughout the week, from speakers like Hannah Fairfield of The New York Times to the Covering Climate Now conference. The inaugural all-class climate lecture, featuring NYT Climate Editor Fairfield, is designed to highlight the vitality of climate reporting for current students. 
"Climate Changes Everything: Creating a Blueprint for Media Transformation" will be held in Pulitzer Hall and bring together leading journalists from around the world. Join on September 21 in person and over Zoom for an unprecedented conversation about how to cover a world on fire. 
For more events going on at Columbia, visit the Climate School's calendar.