Columbia Journalism School leads five-school advocacy campaign in support of imprisoned journalists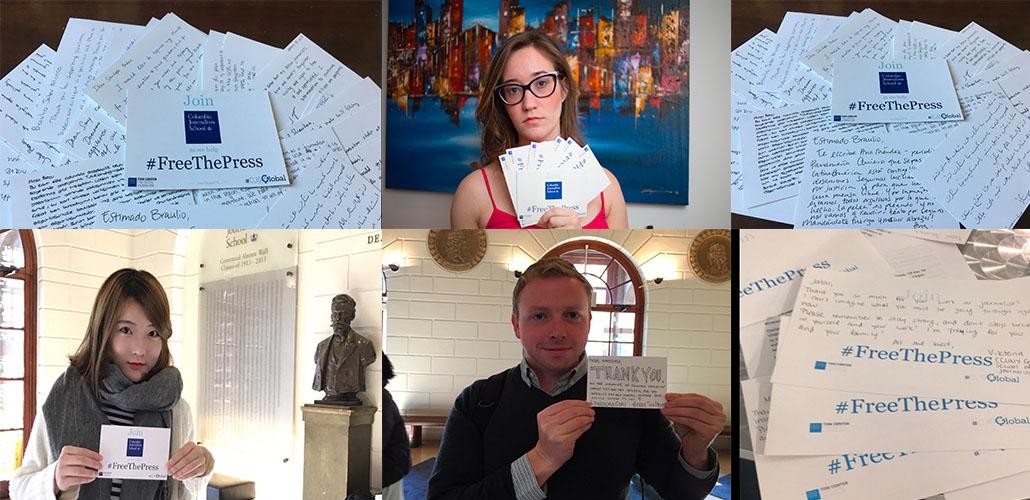 In its annual December census, the Committee to Protect Journalists (CPJ) counted 259 journalists imprisoned worldwide because of their professional work. It's the highest number the group has recorded since the census began in 1990.
To highlight their plight, and to send messages of support to the journalists and their families, #CJSGlobal, an inititiative that's part of the school's international program,  and the Tow Center for Digital Journalism invited students at Columbia Journalism School and four others to write post cards to seven journalists on CPJ's imprisoned list.
In late January, over 250 post cards were written by students from Columbia Journalism School, Columbia's School of International and Public Affairs, City University of New York Graduate School of Journalism, Northeastern University School of Journalism, and the University of Maryland's Philip Merrill College of Journalism.
Ethiopian blogger Edom Kassaye, imprisoned for more than a year before her acquittal on charges of terrorism, helped launch the campaigns at Columbia and CUNY. #CJSGlobal is working with CPJ to get the cards delivered to the journalists' families or news organizations in Venezuela, Ethiopia, China, India, Turkey, Iran and Egypt. Here's a sampling of some of the post card messages:
To Egypt's Mahmoud Abou Zeid, known as Shawkan, detained in 2013 and honored (in absentia) with CPJ's International Press Award last November:
Shawkan,
I don't know how we could thank you for your work and everything you have offered journalists and journalism. I don't know how we could thank you because our thanks is not enough and does not do much. I don't know how we could thank you because all of the thanks in the world is not enough. God willing, we will see you photographing a free Egypt in your city's streets, with no fear of detention and no threat to your life just for fighting for freedom. (translated from the card written by a CJS student in Arabic)
To radio journalist Darsema Sori, imprisoned in Ethiopia since 2015, after covering protests by the country's Muslim community:
Have faith, be strong. We are all pulling for you. The work you do is so important and will not go unnoticed. We need a careful eye on government everywhere now more than ever. You inspire young journalists like me to keep questioning, pushing and working to keep conversations alive.
From one budding radio student to a pro. Your work is a true inspiration. Please find strength in knowing that you are a hero to me and my colleagues.
To Ilham Tohti, a Uighur scholar and blogger sentenced to life in prison in China for promoting Uighur separatism:
Dear Ilham,
Standing for the rights of others is never easy. Especially when it involves risking our own freedom and life. This becomes even harder when we are told that what we do stands against or violates the standards laid out by our own people and governments.
Coming from Pakistan, I understand that struggle – of being branded anti-state because you dared to point out flaws in government. Stay strong!
To Issa Saharkhiz, imprisoned three times in seven years in Iran, most recently in 2015 for "insulting the Supreme Leader."
Reporters like you inspired me to leave my business job and become a journalist. Thank you. You are not forgotten. People are fighting for you.
I don't think I need to express the importance of free speech to someone of your resolve. Just know that you are a hero, and you have our respect and our thoughts.
To freelancer Santoch Yadav, arrested in 2015 in the wake of his reporting on human rights abuses in India's Bastar region.
When you have peace internally, no outside force can stop you. What unites us as people are common struggles and emotion. As we fight against police-brutality in America, I salute your fight in India.
You'll find a list of more on imprisoned journalists and CPJ's #FreeThePress campaign here.
Imran Ahmad Khan is a full-time student at the Columbia Journalism School graduating in May 2017.