Reporting begins here.
Columbia Journalism School is global, influential and innovative.
Centered in the media capital of the world, it leads the way to a better future — backed by more than 100 years of experience in educating trailblazers of the industry. 
The school's tradition is rooted in the bedrock values of journalistic ethics and excellence, but also looks forward, with cutting-edge journalistic innovation and media scholarship. It works to ensure journalism grows to become more accessible, as more diverse voices better tell the story of democracy — and help fortify it further.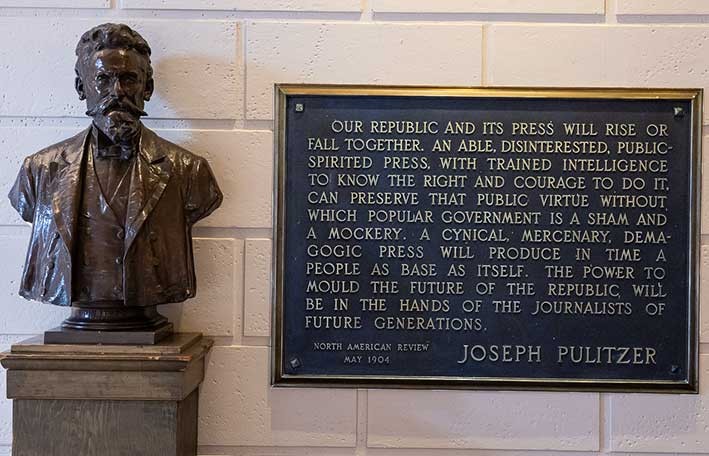 "To educate the next generation of journalists and to uphold standards of excellence in journalism."
As a school and an institution of thought leadership, Columbia Journalism School strives every day to support and develop new models of local news, during a time when its very existence is under assault. And members of the Columbia Journalism School community know that journalism's obligation is to the public. It must remain independent and transparent about its methods and affiliations, and responsible for its errors.
Rigor and Excellence in Academics and Beyond
Columbia Journalism School programs are intensive, rigorous and demanding. They cover the bedrock values of journalistic excellence, ethics, inquiry and professional practices, helping students thrive in a rapidly changing world of digital media. Students come from nearly 50 countries and a wide range of backgrounds. CJS graduates transcend borders and ascend to the highest points of the industry — and faculty members are award‐winning reporters, editors, filmmakers and digital media specialists. Alumni can be found in prestigious news organizations across the globe where they are active in every phase of making the news. The connections they create as students enhance their careers and last a lifetime.
"A journalist is the lookout on the bridge of the ship of state."
The Journalism School administers several prestigious awards that uphold the standards of media excellence, a tradition founder Joseph Pulitzer began when he established the school in 1912 and endowed the Pulitzer Prizes at Columbia in 1917. Columbia Journalism School  is also the home of the Columbia Journalism Review, which sets the gold standard for reporting and analysis on the media industry and on the news.
The School offers professional development programs, fellowships and workshops. These are opportunities for seasoned practitioners and media executives to advance their knowledge and expertise.
The Journalism School promotes innovation and leadership in the evolution of newsgathering and delivery. The Tow Center for Digital Journalism explores the ways technology is changing journalism and serves as a research and development center for the profession. The Brown Institute for Media Innovation supports new endeavors in how stories are discovered and told in a digitized world.
The Mission: Upholding Pulitzer's Legacy
More than a hundred years after his death, the name Pulitzer is all but synonymous with journalism of the highest caliber. Yet little more than a century ago, Pulitzer was an extraordinarily controversial figure. 
Coverage of the Spanish-American war led to a calamitous press war that had soiled his name. Alarmed, Pulitzer determined he would use his fortune to enshrine the highest values of journalism in two prominent ways: the Pulitzer prizes, and a great school of journalism.
Columbia Journalism School lives up to that purpose and has done for more than a century. By educating students from all over the world to become conscientious, accomplished professional journalists, it equips them to perform the vital and challenging function of the fourth estate. The School also produces and disseminates research about the changing contexts — legal, economic, technological, social — in which journalism takes place, with the aim of helping to shape the future of the profession and of training leaders in scholarship about the field.
At the heart of the School's mission — training reporters to cover a multifaceted and ever-changing world — is the precept that the journalism community must be an authentic reflection of that world. Columbia Journalism School believes that meaningful representation of minority groups is essential to telling the full story. The School must be a place where all are seen, heard, and respected, and this commitment must extend from recruitment to graduation and beyond. Having been imbued with this set of values, graduates should carry this same ethos into their workplaces, whether in the field of journalism or elsewhere.  
Looking to the Future
As Columbia Journalism School moves forward, embracing the challenges and opportunities of the 21st century, Pulitzer's legacy endures. 
Under the leadership of Dean Jelani Cobb and a distinguished faculty, the Journalism School continues to educate top journalists, uphold standards of excellence for the profession as a whole and ensure that the press strives for the public good.
Board of Visitors
The Board of Visitors meets with the dean and his staff to provide input and guidance in matters involving the school. CJS is extremely grateful for this group of professionals who volunteer their time and expertise.
Raney Aronson-Rath '95, Executive Producer of Frontline, PBS
Krishna Bharat, Founder Google News
Shobhana Bhartia, Chairperson and Editorial Director of the Hindustan Times Group
Caroline Chen '13, Health Care Reporter, ProPublica
Laura Dimon '13 M.S., '19 M.A. Politics, ABC News' "20/20"
Amy Entelis '79, Board Chair, Executive Vice President for Talent and Content Development, CNN Worldwide
Keith Goggin '91, Managing Partner, STR Trading Partners
Lisa Gokongwei-Cheng, '93, President & Publisher, Summit Media Publishing
Claire Hoffman '04, Author
Mark Hoffman, Chairman, CNBC
Lauren Kern, Editor in Chief, Apple News
Neeraj Khemlani '93, President, Co-Head CBS News and Stations
Ashley Kidd, Vice President and Director of Programs, Endeavor Foundation
Wendy Metcalfe, Senior Vice President of Content & Editor-in-Chief, Diversity, Equity and Inclusion Council; Executive Sponsor, Hearst Connecticut Media Group
Janice Min '91, CEO and Editor in Chief, Ankler Media
Naotoshi Okada, Chairman and Group CEO, Nikkei Inc.
Michael E. Pulitzer, Former Chairman of the Board, Pulitzer Inc.
Morgan Radford '12, Correspondent, NBC News
Janelle Richards '10, Producer, NBC Nightly News with Lester Holt
Richard M. Smith '70, President, The Pinkerton Fund
Katherine Field Stephen '77, Freelance Journalist & Author
Ole Jacob Sunde, Chairman, Schibsted Media Group
Pietro Supino, Chairman, Tamedia A.G.
Karen Toulon '85, Journalist/Author
Accreditation
Columbia University is accredited by the Middle States Commission on Higher Education, 3624 Market Street, Philadelphia, PA 19104; 267‐384‐5000 (MSCHE).
Columbia Journalism School is accredited by the Accrediting Council on Education in Journalism and Mass Communications (ACEJMC).