Where the Class of 2023 Landed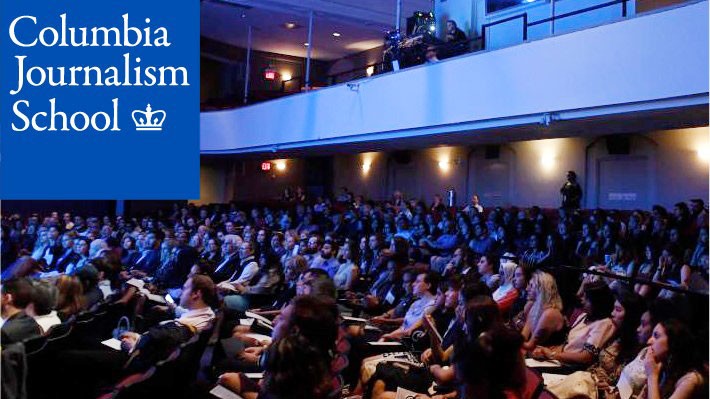 As of Sept. 5, 2023, 83 percent of the Class of 2023 had post-graduate plans lined up (210/254). This includes internships and fellowships, part-time and full-time jobs, freelancing, continuing in a current job or another academic degree.
In 2023, about 44 percent of the graduating class came from outside the United States. Nearly all of our international students are legally permitted to work for one year in the U.S. after graduation on an Optional Practical Training (OPT) visa. International students in Columbia's M.S. Data Journalism program and dual degree M.S. Journalism and M.S. Computer Science programs qualify for longer-term OPT-STEM visas of an additional 24 months.
Our international students are competitive in the U.S. job market for short-term internships and positions while on OPT. After that, it depends on an employer if they will sponsor the candidate. Given the global brand recognition of a Columbia degree, our graduates are highly marketable and we have seen them succeed in their home countries.
The Class of 2023 landed at 120 companies after graduation:
AARP

ABC News

The City

CJI

Grupo Clarin

Harper's Magazine

MSNBC

NBC News

South China Morning Post

SoulCenter
AARP

Actors'​ Equity Association

The City

CNN

Grupo Clarin

Honolulu Civil Beat

MSNBC

New Lines Magazine

South China Morning Post

Steyer Lowenthal Boodrookas Alvarez & Smith
AARP

Afford Anything

The City

Columbia Business School

Grupo Clarin

HousingWire

MSNBC

New Mexico in Depth

South China Morning Post

Story Savor
AARP

All Football

The City

Columbia Journalism Review

Grupo Clarin

Hueman Group MediaICIJ

MSNBC

NewsGuard

South China Morning Post

Telemundo
AARP

American Public Media Group

The City

Columbia University

Grupo Clarin

iHeartMedia

MSNBC

NewsStoryToday

South China Morning Post

The Trace
AARP

An Arm and a Leg

The City

Connecticut Mirror

Grupo Clarin

Inc. Magazine

MSNBC

The New Yorker

South China Morning Post

Travel Media Group
AARP

Asheville Citizen-Times

The City

The Current

Grupo Clarin

Inside Climate News

MSNBC

The New York Times

South China Morning Post

Tuscon Sentinel
AARP

Associated Press

The City

Daily Mail

Grupo Clarin

The Intelligence

MSNBC

NPR

South China Morning Post

University of Illinois - Champaign-Urbana
AARP

Austin Monitor

The City

Deloitte

Grupo Clarin

Interested Engineering

MSNBC

NY Daily News

South China Morning Post

Urner Barry Publications
AARP

Bank Automation News

The City

Documented

Grupo Clarin

International Center for Journalists

MSNBC

NZ Geographic

South China Morning Post

Verite News
AARP

BBC News

The City

DuPont Awards

Grupo Clarin

KFSK

MSNBC

Orion Worldwide

South China Morning Post

The Video Consortium
AARP

Bellingcat

The City

Edelman Canada

Grupo Clarin

Latham & Watkins LLP

MSNBC

The Outlaw Ocean Project

South China Morning Post

The Vietnamese Magazine
AARP

The Berkshire Eagle

The City

Education Writers Assn

Grupo Clarin

Law360

MSNBC

PBS NewsHour

South China Morning Post

Vision Education Foundation
AARP

Blue Ink Digital

The City

El País 

Grupo Clarin

Lokalredaktör

MSNBC

People Magazine

South China Morning Post

VTDigger
AARP

Book Culture

The City

FAFSPE fellowship

Grupo Clarin

Los Angeles Times 

MSNBC

Pulitzer Center Grant

South China Morning Post

The Wall Street Journal
AARP

Bloomberg

The City

Fleet Feet

Grupo Clarin

Magic Grant

MSNBC

The Real Deal

South China Morning Post

Washington College
AARP

The Buffalo News

The City

Florida Museum of Natural History

Grupo Clarin

Maine Monitor 

MSNBC

Religion News Service

South China Morning Post

The Washington Post
AARP

Business Insider

The City

Forbes

Grupo Clarin

The Messenger

MSNBC

Reuters Institute @ Oxford

South China Morning Post

Wirecutter
AARP

CBS

The City

Fox News

Grupo Clarin

Miami Herald 

MSNBC

Sahan Journal

South China Morning Post

WNYC
AARP

Chalkbeat

The City

Foreign Policy

Grupo Clarin

Mission Local

MSNBC

The San Luis Obispo Tribune

South China Morning Post

Womens e-News
AARP

China Daily

The City

Frontline

Grupo Clarin

MS Center for Investigative Reporting

MSNBC

Scientific American

South China Morning Post

Womens Health
AARP

The City

FuturoGilded Audio

Grupo Clarin

Moodys

MSNBC

Columbia SIPA

South China Morning Post