Columbia Journalism School Announces 2020-2021 Spencer Fellows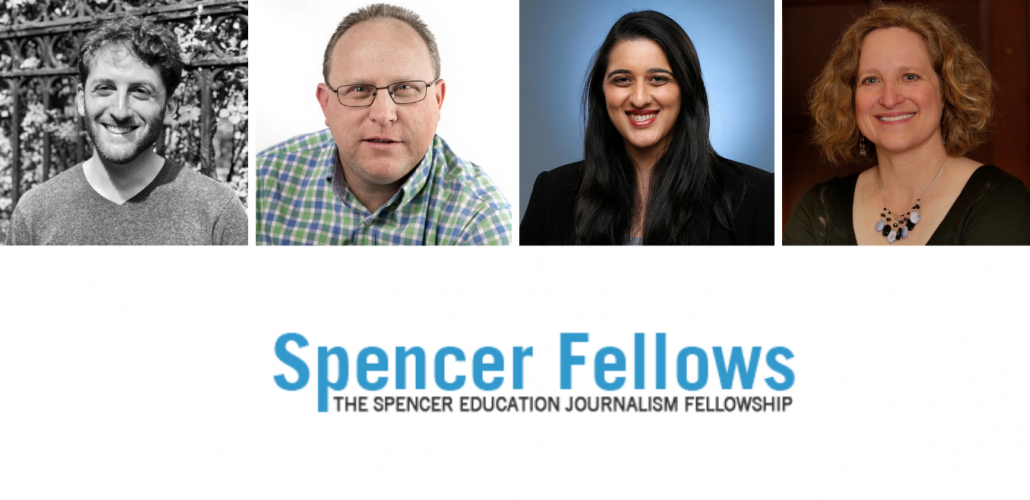 Four distinguished journalists were selected for the next group of Spencer Fellows in Education Reporting for the 2020-2021 academic year, the first year Columbia Journalism School has expanded its traditional residential fellowship to include two non-residential options.
The fellows come from Los Angeles, Detroit, Boston and Brooklyn, bringing a variety of backgrounds and diverse professional experience to study with Columbia professors and produce significant works of journalism. The projects this year include reporting on the crisis among small colleges in middle America, on efforts to diversify schools in three New York City neighborhoods, on youth activists past and present, and on the challenges of teaching race and racism in volatile times. The winners were chosen by a distinguished board of journalists and education scholars after a competitive application process.
The residential fellows are Sonali Kohli, local education reporter for The Los Angeles Times and Max Freedman, journalist, teacher, and theater artist based in Bedford-Stuyvesant, Brooklyn. The two fellows who will be living off campus are David Jesse, higher education reporter for the Detroit Free Press, and Linda K. Wertheimer, freelance journalist and author of "Faith Ed: Teaching about Religion in an Age of Intolerance." Each fellow receives a stipend ($85,000 for residential, $40,000 for non-residential) plus research expenses to support their year studying with professors in person or virtually throughout Columbia campuses and working on projects under the guidance of mentors at the Journalism School.
"The Journalism School welcomes these four accomplished, enterprising journalists to join the Spencer Fellowship network," said Prof. LynNell Hancock, child and family policy expert who serves as director of the fellowship. "Their work promises to influence the critical conversations to come, deepening our understanding of child poverty, inequity and race in this rapidly changing world."
This year's fellows are:
Sonali Kohli 
Sonali Kohli has reported on education and breaking news for the Los Angeles Times since 2015. Her stories include an award-winning series on high schools in L.A. surrounded by homicide, coverage of the Los Angeles teachers strike and reporting on mass shootings and deadly fires in the state. A product of Southern California, she grew up in Diamond Bar.
As a member of the Education Writers Association she has shared expertise on reporting about trauma and self-care in journalism, and has served on the organization's Diversity and Inclusion Task Force. Before joining the LA Times five years ago, she worked as a metro reporter for the Orange County Register and as a reporter covering education and diversity for Quartz.
A graduate of UCLA, Kohli will spend her Spencer Fellowship year working on a young adult nonfiction book about teen activism in the past and present.
Max Freedman
Max Freedman is a journalist, teacher, and theater artist based in Bedford-Stuyvesant, Brooklyn. He is the creator, producer, and host (with Mark Winston Griffith) of School Colors, a limited podcast series about race, class, and power in American cities and schools. He is also the executive producer of Making the Call, a new weekly podcast about bioethics and COVID-19, and one of the creators of Unsettled, a podcast about Israel-Palestine and the Jewish diaspora.
He is a facilitator with Theatre of the Oppressed NYC and adjunct faculty at Pratt Institute, where he teaches cultural organizing and urban education. As a Senior Educator at the New-York Historical Society, he created History on Broadway!, an enrichment program using musicals to teach American history in public school classrooms. He holds an M.S. in Design and Urban Ecologies from Parsons School of Design and a B.A. in Theatre from Northwestern University. Freedman will spend his Spencer Fellowship year reporting and producing an audio docu-series on the diversity plans in three New York City school districts.
David Jesse
David Jesse, higher education reporter for the Detroit Free Press, where he has spent nearly a decade covering the state's private and public colleges and universities.  During his time at the Free Press he was part of a multi-year investigation of Michigan's charter school system, a system championed by current Education Secretary Betsy DeVos. He has written extensively on the Larry Nassar scandal at Michigan State University, including stories exposing the university decades-long coverups, the effort from top official to only push positive news about the school, and perks handed out to former president Lou Anna Simon as she resigned in disgrace. He has detailed how the University of Michigan steered money from its endowment to donors. He also spent extensive time in rural Michigan, showing how a lack of access to higher education is harming low-income residents.
Jesse was named the top education beat reporter in the nation by the Education Writers Association (2018). He is a 2016 and 2019 Education Writers Association fellow and has won nearly three dozen state and national awards for his work.
Jesse, a graduate of Cornerstone University, will spend his fellowship looking at small liberal arts colleges across the Midwest. He plans to detail the shaky future for these schools and the small, often rural towns that rely on the schools as the prime economic force.
Linda K. Wertheimer
Veteran education journalist Linda K. Wertheimer is the author of the award-winning book "Faith Ed: Teaching about Religion in an Age of Intolerance ," which scrutinizes public schools' efforts to teach about religion often in the face of controversy. Before turning to freelancing, writing books and teaching writing, she worked as an education reporter or editor for nearly 25 years. She is a former education editor of The Boston Globe and worked as an education reporter at The Dallas Morning News, The Orlando Sentinel and The Democrat and Chronicle in Rochester, N.Y. "Faith Ed" and related articles, such as a cover story for The Boston Globe Magazine, have won awards from the Religion News Association, the Education Writers Association and Massachusetts Cultural Council.
Wertheimer's education journalism work, most recently in the Boston Magazine and The New York Times, has focused on the intersection of race and education. She will use her Spencer Fellowship to work on narrative nonfiction book tentatively titled "Seeing Color, Can Schools Prepare a New Generation of Anti-Racists?" Her book will examine how a predominantly white teaching force struggles to address race and racism in an increasingly tense environment. She will scrutinize controversies over lessons on racism, as well as the success stories and stories of challenges that rarely make news.
Linda has a bachelor's and master's degree in journalism from Northwestern University. A frequent public speaker on religion and education, she is a mentor for Education Writer's Association's New to the Beat program, and mentor-editor for The Op-Ed Project, which strives to help publish underrepresented voices in the nation's op-ed pages. She lives in the Boston area with her husband and school-aged son.