Columbia Announces 2022-2023 Knight-Bagehot Fellows in Economics and Business Journalism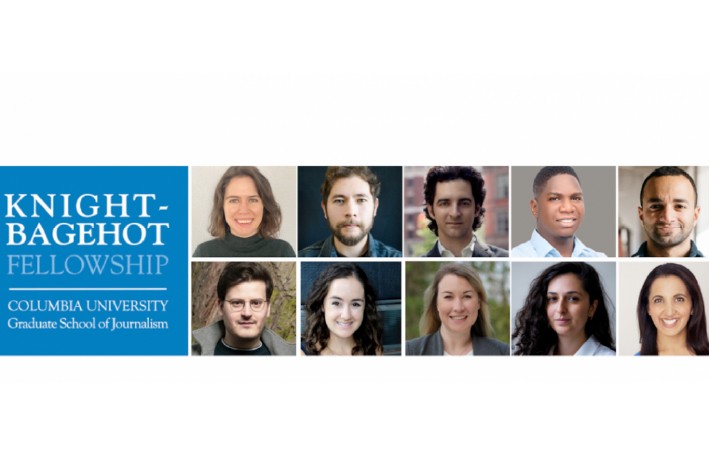 Columbia Journalism School announced today 10 Knight-Bagehot Fellows in Economics and Business Journalism for the 2022-2023 academic year. The Fellows represent organizations including the Financial Times, Insider, BBC World Service and Agence France-Presse.
The mid-career fellowships provide full tuition and a living stipend of $60,000 for experienced journalists to take graduate courses, primarily at Columbia's Schools of Business and Journalism. Fellows also attend weekly seminars at the Journalism School led by seasoned journalists, media business executives, scholars and a broad range of tech, finance and corporate experts during the nine-month program, which begins in August.
The Class of 2023 will join more than 400 Knight-Bagehot alumni – journalists who cover economics, technology, finance and public policy around the globe.
The 2022-2023 Knight-Bagehot Fellows
H. Claire Brown is a senior staff writer for The Counter, a nonprofit publication covering food and agriculture. Her reporting has won awards from the Society for Advancing Business Editing and Writing and the Newswomen's Club of New York, and has appeared in outlets including The New York Times Magazine, The Guardian and The Intercept. A graduate of the University of North Carolina at Chapel Hill, she currently lives in Brooklyn.
Kevin Flores is a founding editor and investigative reporter at FORTHE.org, a noncommercial, reader-supported, worker-owned digital media outlet, where he has covered Long Beach, CA for the last five years. He reports on housing affordability, police accountability and environmental justice. In 2019, he produced and directed the short documentary series "Our Home Too" that captured both the pain and resilience of Long Beach renters facing displacement as the city rapidly gentrified. He also works as a breaking news reporter for City News Service, the nation's largest regional wire service. The son of Mexican immigrants, he received his undergraduate degree in journalism from California State University, Long Beach.
Zack O'Malley Greenburg is the author of four books, most recently A-List Angels: How a Band of Actors, Artists and Athletes Hacked Silicon Valley, published by Little, Brown in 2020. A former senior editor at Forbes, Zack pioneered the publication's coverage of hip-hop wealth and penned a dozen cover stories on subjects from Kanye West to Katy Perry. He has also written for The New York Times, The Washington Post, Rolling Stone and Vanity Fair. His Substack newsletter, the Zogblog, covers the intersection of music, media and money. A recovering child actor, Zack played the title role in the 1992 film Lorenzo's Oil. He graduated from Yale in 2007 with an American studies degree.
Abubakar Idris is a reporter based in Lagos, Nigeria, for Rest of World. He writes in-depth stories about technology startups in Africa, talent, venture capital, regulation and the impact of technology on the African continent. Before joining Rest of World, he worked at TechCabal, a Pan-African publication and also at Stears Business as a financial journalist covering the Nigerian innovation ecosystem, e-commerce and logistics. He has also written for Quartz Africa. In 2020, he was a finalist for the PwC Nigeria Journalist of the Year Award for SMEs Reporting.
Ryan Kailath is a producer for an upcoming podcast series from Higher Ground, the production company set up by former President Barack Obama and Michelle Obama and an editor at KUOW, the NPR member station for Seattle, WA. A radio journalist whose work has aired on Morning Edition, All Things Considered, 99% Invisible, WNYC, KCRW and more, Ryan has covered business and economics on staff at NPR and at APM's Marketplace and has worked for public radio stations in New Orleans, Los Angeles and elsewhere. He has produced podcasts for The New York Times, The Wall Street Journal, ESPN, WIRED magazine and other outlets. He was raised in Stanford, California and Bangalore, India.
Joe Miller is a correspondent for the Financial Times in Frankfurt covering German industry, tech and innovation. His book, "The Vaccine," told the inside story of the BioNTech/Pfizer shot, the development of which he reported on during the pandemic. Previously, Joe worked at BBC News in London and as a correspondent in New York, Delhi and Berlin. While covering Brexit, he broke the story of Seabourne Freight, the company contracted by the U.K. government to provide cross-channel ferries that had never sailed a vessel. Joe also worked on the Paradise Papers, through which he traced U2 frontman Bono's investments to a Lithuanian shopping mall being investigated for tax evasion. He has a degree from the University of Leeds.
Meghan Morris is a senior correspondent on Insider's tech features and investigations team. She focuses on companies in crisis and executive mismanagement. She led Insider's coverage of WeWork and of Jeffrey Epstein's ties to Wall Street, and she has reported on beats ranging from asset management to tech IPOs. She was previously the senior Americas reporter at the private equity real estate industry's magazine, PERE, where she covered institutional investors, technology and sector trends. Meghan holds undergraduate and master's degrees in journalism from Northwestern University's Medill School of Journalism. She teaches investigative journalism to graduate students at New York University's Arthur L. Carter Journalism Institute.
Vivienne Nunis is a host of several programs on the BBC World Service, including Business Daily and Business Matters. The shows cover everything from company news and economic trends, to environmental problems and workplace issues. While she can usually be found presenting from a studio, Vivienne most enjoys taking the shows on the road and has broadcast live from India, Kenya and Uganda. She's also worked as the BBC's North America Business Correspondent, reporting for TV and radio from the floor of the New York Stock Exchange, and as the BBC's Africa Correspondent, based in Nairobi. Before moving to the UK, Vivienne was a reporter at the Australian Broadcasting Corporation.
Andrea Palasciano is an economics and business correspondent in Russia for Agence France-Presse covering some of the biggest upheavals in the country's history, most recently the impact of the war in Ukraine. She has reported from remote regions of the Arctic all the way to Azerbaijan and written on topics ranging from the energy sector to the effect of sanctions. She is the co-author and co-host of a podcast, "The Poisoning," on the historic crackdown on Russia's opposition. Before Russia, she reported for AFP from Paris, Marseille and Rome. Originally from Italy and Germany, Andrea holds a B.A. and M.A. from Sciences Po Paris as well as an M.A. from Ecole Normale Supérieure.
Paula Pant is the creator and host of the Afford Anything podcast, which has more than 20 million downloads and 3,000 ratings on Apple Podcasts. She is the founder of Afford Anything, a personal finance brand and website with more than 70,000 newsletter subscribers. Her work has been featured in The New York Times, Oprah.com, Money Magazine, Forbes, Kiplinger, Morningstar and more. She has spoken at many events, including delivering a Talk at Google on money management and guest lecturing at Georgetown University. Prior to launching a financial media platform, she was a reporter at the Colorado Daily. She graduated magna cum laude from the University of Colorado at Boulder.
The 2022-2023 Fellows were chosen with input from a selection advisory committee of senior media executives from organizations including The New York Times and Chicago Public Media.
About the Knight-Bagehot Fellowship
Founded in 1975, the fellowships are named for John S. and James L. Knight, brothers who established the Knight Foundation, and Walter Bagehot, the 19th-century British economist and editor of The Economist. They are administered by the Columbia Journalism School. Funds are provided by an endowment from the Knight Foundation with annual tuition scholarships supported by grants from foundations and corporations, which have included The New York Times, Thomson Reuters, Bloomberg, Dow Jones & Co., JP Morgan Chase, Brunswick Group, Goldman Sachs, Gladstone Place Partners, CNN, CBS, McKinsey & Co., and Edelman.
For more information on the Knight-Bagehot Program, click here.