Columbia Announces 2021-2022 Knight-Bagehot Fellows in Economics and Business Journalism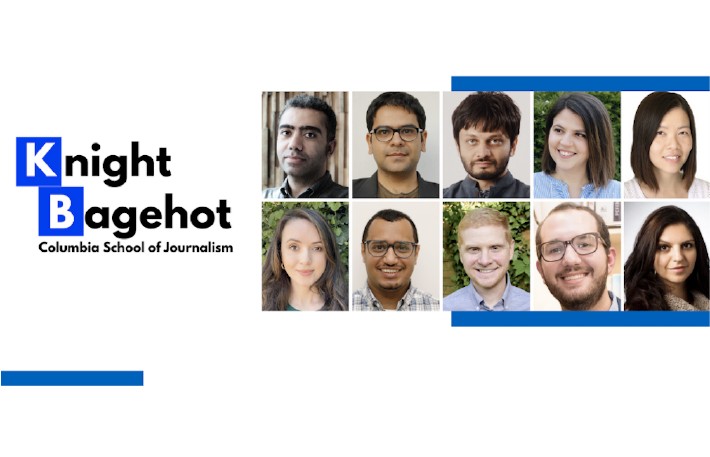 Columbia Journalism School announced today 10 Knight-Bagehot Fellows in Economics and Business Journalism for the 2021-2022 academic year. The Fellows represent organizations including Thomson Reuters, Bloomberg News, The Wall Street Journal and the Organized Crime and Corruption Reporting Project (OCCRP).
The mid-career fellowships provide full tuition and a living stipend of $60,000 for experienced journalists to take graduate courses, primarily at Columbia's Schools of Business and Journalism. Fellows also attend special seminars at the Journalism School led by scholars, seasoned journalists, media business executives and a broad range of tech, finance and corporate experts during the nine-month program, which begins in August.
The Class of 2022 will join more than 400 Knight-Bagehot alumni, well-trained journalists who cover economics, technology, finance and public policy around the globe.
This year's fellows are:
Ahmed Al Omran, 36, a freelance journalist who currently publishes a regular newsletter about Saudi Arabia called "Riyadh Bureau." Born and raised in Hofuf, eastern Saudi Arabia, he graduated from Columbia Journalism School in 2011. He worked for National Public Radio in Washington D.C. before returning to Saudi Arabia to cover the kingdom for The Wall Street Journal and more recently for The Financial Times. His work has also appeared in other major publications such as The New York Times, The Guardian and Foreign Policy. 
Anuj Chopra, 38, has worked for Agence France-Presse (AFP), since 2011 when he was hired in Hong Kong. He currently serves as Riyadh Bureau Chief and earlier served as the agency's Kabul Bureau Chief. Originally from India, he has reported from hotspots in Asia and the Middle East, including Syria, Yemen and Iran. His reporting has won several journalism prizes such as the Society of Publishers in Asia (SOPA) award and the Human Rights Press Award. He has also received a fellowship from the Kiplinger Program in Public Affairs Journalism.
Mihir Dalal, 35, most recently covered internet companies for the Indian business newspaper Mint where he has worked for nine years and served as Bangalore Bureau Chief. Before Mint, he worked at Reuters and CNBC TV-18. His 2019 book "Big Billion Startup: The Untold Flipkart Story," was named one of the books of the year by TechCrunch. It won the CK Prahalad Best Business Book Award and the Gaja Capital Business Book Prize. A leading production house has purchased the movie rights of the book.
Viktoria Dendrinou, 31, is a reporter for Bloomberg News in Brussels where she covers the European Union. She has written on topics ranging from the eurozone crisis to transatlantic trade wars, banking regulation and, more recently, Europe's pandemic response. Previously she worked for The Wall Street Journal as an EU correspondent and, in 2019, she co-authored a book on the Greek debt crisis, "The Last Bluff: How Greece Came Face-to-Face with Financial Catastrophe & the Secret Plan for Its Euro Exit." Before moving to Brussels, Viktoria worked at Reuters Breakingviews in London and was a Nico Colchester Fellow at The Economist . She holds a BA in Philosophy, Politics and Economics from the University of Oxford and an MSc in Economics from University College London. She was born and raised in Athens, Greece. 
Esther Fung, 36, is a reporter for The Wall Street Journal, where she covers the U.S. commercial real estate industry. Before moving to the U.S., she was based in Shanghai, where she covered China's housing market and economic policies. She grew up in Singapore and started her career as a business reporter for the local TODAY paper. She received a Bachelor of Communication Studies from Nanyang Technological University.
Laila Kearney, 35, is a U.S. energy reporter for Reuters, where she has documented the bankruptcy and shutdown of the largest East Coast oil refinery, air pollution monitoring failures and the 2020 oil market crash. Earlier she was a member of Reuters' U.S. Public Finance and National Affairs teams. Her work has earned prizes including a New York Press Club Award and the SPJ NorCal Chapter's James Madison Freedom of Information Award. Prior to joining Reuters in 2013, she launched and ran multiple local news websites for AOL/Patch.com.
Omar Mohammed, 38, is East Africa Business Correspondent for Reuters based in Nairobi, Kenya. Earlier, he reported for Bloomberg News covering business, economics and politics in Tanzania, and served as East Africa reporter for Quartz based in Tanzania's commercial capital, Dar es Salaam. Omar spent a year in the United States as a Hubert Humphrey Fulbright Fellow at Arizona State University and also was an ICFJ Knight International Journalism Fellow in Dar es Salaam. He was a finalist for the 2019 Deadline Club Awards as part of Reuters coverage of President Donald Trump's immigration policies. 
Christopher Otts, 37, is a digital reporter at WDRB News in Louisville, Ky., where he primarily covers business and economics at the intersection of state and local government policies. He is one of six former newspaper reporters and columnists writing for WDRB.com. Before joining WDRB in 2013, he reported for seven years for The Louisville Courier-Journal, most recently on the paper's business desk. He has won numerous local awards and was named best digital journalist in the 2016 Kentucky AP Broadcast Contest. In 2019 he created the award-winning Louisville news podcast, Uncovered by WDRB. Otts is a native of New Orleans and a 2006 graduate of The University of Alabama.
Cory Weinberg, 29, is a San Francisco-based reporter for The Information. He writes in-depth stories about startups, tech workers, real estate and venture capital, and has reported extensively on Airbnb, WeWork, and the tangled relationship between tech firms and the Bay Area. Previously, he reported on Bay Area housing and commercial real estate for The San Francisco Business Times. He received a Best Young Journalist award from the National Association of Real Estate Editors. 
Kira Zalan, 40, is an investigative editor at the Organized Crime and Corruption Reporting Project (OCCRP), an award-winning, nonprofit investigative journalism platform. Kira coordinates cross-border projects and works with reporters at over 50 independent media outlets around the globe to help develop, produce, and publish investigations with a focus on high-level corruption and organized crime. Prior to joining OCCRP, she reported for MoneyLaundering.com, edited for U.S. News & World Report, and freelanced for the Global Investigative Journalism Network, Public Radio International, Rewire and Ms. Magazine. She is a graduate of the University of California Santa Cruz, the London School of Economics and Georgetown University.
The 10 Fellows, who currently work in business and economics journalism, represent major business journalism outlets — from media start-ups to local news organizations to national and international news organizations. 
The 2021-2021 Fellows were chosen with input from a Selection Advisory Committee of senior media executives from organizations including ProPublica and The New York Times .
About the Knight-Bagehot Fellowship
Founded in 1975, the fellowships are named for John S. and James L. Knight, brothers who established the Knight Foundation, and Walter Bagehot, the 19th-century British economist and editor of The Economist. They are administered by the Columbia Journalism School. Funds are provided by an endowment from the Knight Foundation with annual tuition scholarships supported by grants from foundations and corporations, which have included The New York Times, Thomson Reuters, Bloomberg, Dow Jones & Co., JP Morgan Chase, Brunswick Group, Goldman Sachs, Gladstone Place Partners, CNN, CBS, McKinsey &; Co., Edelman.
This year's 46th Anniversary Celebration of the Knight Bagehot Fellowships, which is the principal source of fundraising for the program, is currently scheduled to be held on October 21. Details will be forthcoming. 
For more information on the Knight-Bagehot Program, visit: https://journalism.columbia.edu/kb