Welcoming Ty Lawson, incoming Joan Konner Visiting Professor of Journalism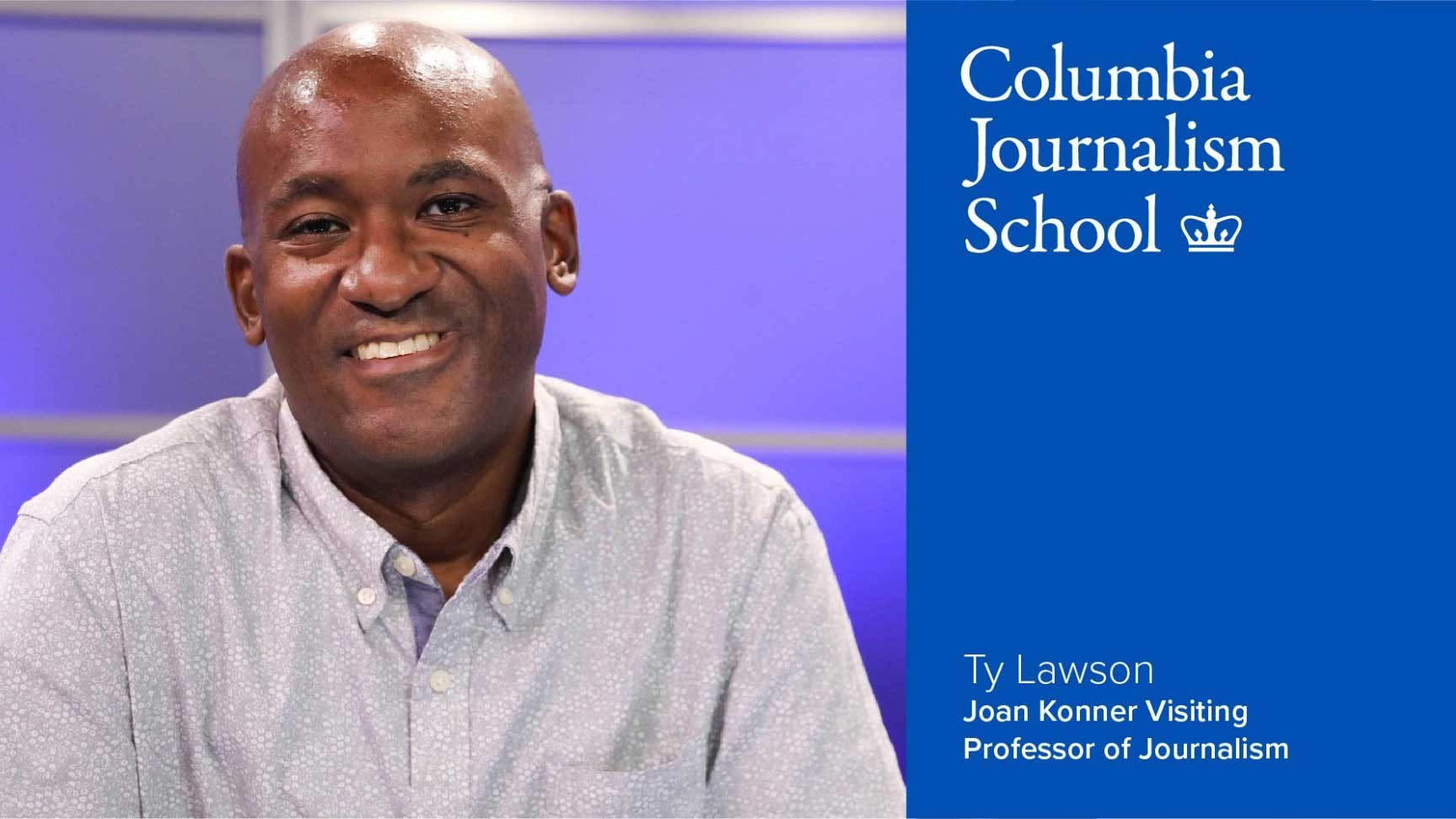 Ty Lawson has joined Columbia Journalism School as the Joan Konner Visiting Professor of Journalism. A global media and education professional, Lawson has a storied career in broadcast, digital and film journalism.
Lawson will teach foundational Reporting classes and more to M.S. students. With his wide range of experience abroad — reporting in New York, Beijing, Los Angeles, Hong Kong, Singapore, and Seoul — he brings insights into the complexities of race, ethnicity and other forms of diversity as they apply to journalism.
"Today journalists must be able to use a variety of tools to craft compelling stories. We are required to understand how to use a variety of elements including text, audio, video, and graphic design to effectively tell stories  across a variety of platforms," Lawson said, describing his vision for his visiting position. "My desire at Columbia is to use the banner Media that Matters to develop courses that train the next generation of journalists to be the innovative and creative tech-savvy professionals our industry needs."
Lawson was the inaugural Marion M. And John S. Stokes Visiting Professor in Race and Culture in Media at Loyola University's School of Communication and Design. At Loyola, he spent two years developing classes that prepared journalists for the ever-changing media landscape.
"I developed a class where students in the U.S. teamed with Journalism students in Argentina to map human trafficking throughout the Americas. I am confident with the foundation laid with the training journalists get here at Columbia, we can take classes like that to new heights," Lawson continued. "I'm excited about the possibilities and forever grateful to be part of this community of journalists."
Lawson  has worked for national and international broadcasters ABC News' "Good Morning America", NBC's "3rd Hour Today", BBC Worldwide, and CCTV'S CGTN Digital division producing innovative content. As a filmmaker, Lawson has produced more than a dozen short films that have screened at the world's biggest film festivals including Cannes, Berlinale, and Toronto. He was selected as a Berlinale Talent in 2014.
Lawson is a graduate of NYU's Tisch School of the Arts with a MFA focusing on International Media Producing. He is a member of the Writers Guild of America, Executive Board Member, the Louisiana Professional Chapter of the Society of Professional Journalists, and a Member, Ghetto Film School Roster.
The visiting professorship is named for Joan Konner, '61 M.S., a groundbreaking broadcast news producer, documentarian, television executive, and author who served as Dean from 1988 to 1997.  Konner brought many innovations to the School, establishing both the part-time Masters of Science and Ph.D. programs, and modernizing the curriculum.
She also served as a trustee of Columbia University; and after her term as dean, as publisher, and later as a member of the Board of Overseers, of the Columbia Journalism Review (CJR). She lent her philanthropic support to CJR and to the school by establishing an endowed scholarship, a graduation prize and by restoring the school's lobby. Her family has continued to support this legacy through the establishment of this visiting professorship and an endowed fellowship, both in her name.