Columbia Announces 2023-2024 Knight-Bagehot Fellows in Economics and Business Journalism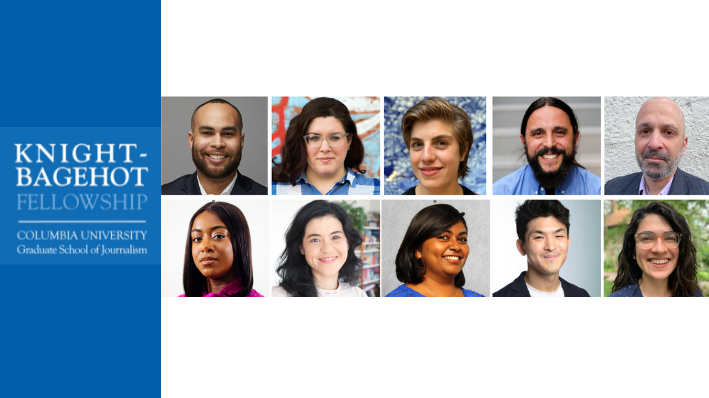 Columbia Journalism School announced today 10 Knight-Bagehot Fellows in Economics and Business Journalism for the 2023-2024 academic year. The Fellows represent organizations including The Economist, Reuters, BBC, Bloomberg, Forbes, Insider, The Philadelphia Inquirer, American Public Media and Crain's New York Business.
The mid-career fellowships provide full tuition and a living stipend of $60,000 for experienced journalists to take graduate courses, primarily at Columbia's Schools of Business and Journalism. Fellows also attend weekly seminars at the Journalism School led by seasoned journalists, media business executives, scholars and a broad range of tech, finance and corporate experts during the nine-month program, which begins in August.
The Class of 2024 will join more than 400 Knight-Bagehot alumni – journalists who cover economics, technology, finance and public policy around the globe.
The 2023-2024 Knight-Bagehot Fellows:
Tyler Clifford is a breaking news correspondent for Reuters based in New York, where he has lived since 2018. His coverage of U.S. national affairs includes reporting on state and federal courts, economics, government and politics. Prior to Reuters, he wrote about publicly traded companies and Wall Street for CNBC, where he helped chronicle the pandemic-spurred meltdown and rebound in financial markets. He got his start as a business journalist with Crain's Detroit Business, reporting about businesses in the Detroit area and the city's recovery from bankruptcy. He graduated from Michigan State University in 2015.
Emma Cosgrove is a senior reporter on Insider's transportation team where she covers supply chains, logistics companies and the broader workforce that fuels our consumption. She was a lead reporter on Insider's 2022 SABEW award-winning "Warehouse Nation" project. Emma has been a business reporter for 14 years with previous stints covering food, agriculture, venture capital and banking. Her work has appeared in The Atlantic, Supply Chain Dive, AgFunder News, The Counter and Edible Magazine. She has reported in six countries on four continents and started her journalism career as a financial reporter in Beirut, Lebanon.
Emma Court is a health-care reporter for Bloomberg News where she's led coverage of the weight-loss industry, including the seven-part podcast series "Losing It," which she reported, wrote and hosted. She previously reported on the frontlines of the Covid-19 crisis. Her work has also explored the tension between costly new therapeutic innovations and patients' ability to access them. She's a mentor with the nonprofit Girls Write Now, and her writing has appeared in publications from Businessweek to The Atlantic, The Wall Street Journal and The New York Times. A graduate of Cornell University, she lives in Brooklyn.
Michael R. del Castillo is a senior editor at Forbes who covers how blockchain is being adopted by enterprises and the broader business community. His work, regularly cited in industry research reports, has been published in The New Yorker, nationally syndicated by American City Business Journals and included in "Blockchain in Financial Markets and Beyond" by Risk Books. Since 2009 he's run Literary New York, a nonprofit organization dedicated to showing the state's rich literary heritage.
Jon Fasman has worked for The Economist since 2003, as a U.S. digital editor, Atlanta correspondent, South-East Asia bureau chief, Washington correspondent and American business-and-society correspondent. He also co-hosted the magazine's daily-news podcast, "The Intelligence," helped create and launch its politics podcast, "Checks and Balance," and has done extensive audio reporting. He's written two novels, "The Geographer's Library" and "The Unpossessed City," and a book about police surveillance technology called "We See It All: Liberty and Justice in an Age of Perpetual Surveillance." Married with two sons, he lives in Dobbs Ferry, New York.
Layla A. Jones is the economic equity reporter at The Philadelphia Inquirer where she covers how policy impacts people's finances. Her community-based reporting focuses on Black life, social politics and workforce issues. She recently wrapped work on The Inquirer's year-long "More Perfect Union" project, which explored Philadelphia's role in creating historic institutional racism that persists today. She has worked at Billy Penn and WHYY, in PR for a Philadelphia councilmember and as a politics reporter for The Philadelphia Tribune.
Camilla Veras Mota is a bilingual reporter working for BBC Brazil and the network's English outputs. She previously covered macroeconomics for Valor Economico, Brazil's leading business newspaper and has worked as a reporter in São Paulo, Berlin and London and in different formats and platforms, including print media, real time, online services, digital videos, documentaries, live TV and radio. She has degrees in journalism and accounting from the University of São Paulo.
Prinesha Naidoo covers economics and government policy for Bloomberg News from Johannesburg and is deputy bureau chief for South Africa. She has a deep understanding of trade, monetary and fiscal policy in sub-Saharan Africa and has interviewed dozens of the region's central bankers, finance ministers and other policymakers. Previously, Prinesha reported for Moneyweb, where her coverage of the banking and insurance sectors won Citi's Journalistic Excellence Award. She has hosted primetime business shows on national radio and worked as a reporter and producer for Business Day TV, which is broadcast in nine southern African countries.
Taylor Nakagawa is the digital editor at Crain's New York Business where he oversees the publication's online presence, drives audience-centered reporting and edits investigative packages and business columns. In March, Crain's was awarded a Best in Business prize for "General Excellence" from the Society for Advancing Business Editing and Writing. Previously, he worked at The Wall Street Journal where he created editorial products to engage new readers, including a live event series unpacking WSJ reporting, interactive courses and a network of advisers to reach a younger audience. He graduated from the Missouri School of Journalism and lives in Brooklyn.
Lauren Rosenthal is a senior reporter at APM Reports, the investigative unit of American Public Media, and the host of "In Deep," a podcast about one American city struggling to recover from a string of climate disasters. Previously, she reported for public radio stations in Alaska's Aleutian Islands and on the edge of New York's Adirondack Park. Lauren has contributed to ProPublica, NPR, Al Jazeera America and more, and her work has won regional and national awards, including the Sigma Delta Chi medal for public service journalism. Originally from Washington State, she is a graduate of Yale University.
The 2023-2024 Fellows were chosen with input from a selection advisory committee of senior media and business executives from organizations including The New York Times, Chicago Public Media and Lazard.
Contact:
Daniel Rivero
[email protected]