Columbia Announces 2020-2021 Knight-Bagehot Fellows in Economics and Business Journalism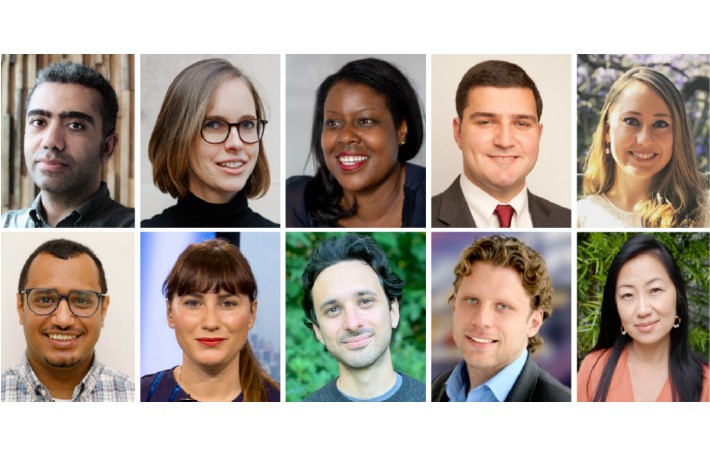 Columbia Journalism School announced today 10 Knight-Bagehot Fellows in Economics and Business Journalism for the 2020-2021 academic year. The Fellows represent organizations including Thomson Reuters, National Public Radio, Bloomberg, The Financial Times and Crain's New York Business.
"This fellowship class comes together as forces reshape the global economy,  underscoring the need for skilled business journalists," said Knight-Bagehot Program Director Ann Grimes. "These journalists will deepen their knowledge and sharpen their skills to advance coverage of the shifting global business landscape." 
The Class of 2021 will join more than 400 Knight-Bagehot alumni, well-trained journalists who cover economics, technology, finance and public policy around the globe.
The mid-career fellowships provide full tuition and a living stipend of $60,000 for experienced journalists to take graduate courses, primarily at Columbia's Schools of Business and Journalism. Fellows also attend special seminars at the Journalism School led by scholars, seasoned journalists, media business executives and a broad range of tech, finance and corporate experts during the nine-month program, which begins in August.
This year's fellows are:
Ahmed Al Omran, a correspondent for The Financial Times. Born and raised in Hofuf, eastern Saudi Arabia, he is a graduate of Columbia Journalism School.  He has covered Saudi Arabia for The Wall Street Journal and worked for National Public Radio in Washington D.C. His work also has appeared in The New York Times, The Guardian and Foreign Policy. He publishes a monthly newsletter about Saudi Arabia called Riyadh Bureau.
Josie Cox, the former business editor of The Independent, is a journalist and broadcaster from the UK who covers business, finance and gender equality. She grew up in Switzerland and started her career as a correspondent for Reuters in Frankfurt before moving to London to cover corporate finance. Prior to The Independent, she spent several years reporting on markets for The Wall Street Journal in London. Her work has been published by The Guardian, The Telegraph, Quartz, Forbes.com, Fortune, Huffington Post and The New Statesman. She is a regular guest on the BBC and a graduate of the University of Bath.
Dawn Kissi is the co-founder of the digital media firm Emerging Market Media and serves as Editor of the firm's flagship website, Emerging Market Views, which covers frontier markets for an audience of financial market professionals. Dawn began her journalism career at ABC News. She was a 2017 CUNY Tow-Knight Fellow in entrepreneurial journalism and in 2018 was recognized by media industry trade group FOLIO as a "Top Woman in Media" in the category of entrepreneurship. Dawn is a graduate of Columbia Journalism School.
Jonathan LaMantia is a senior reporter covering health care for Crain's New York Business and its health care newsletter, Health Pulse. At Crain's, he covers the business of healthcare in New York City, reporting on hospitals, health insurers, medical groups and the health policy decisions that affect the industry. Previously, Jonathan interned at Bloomberg News and Long Island Business News. He earned a B.A. in business journalism from the University of North Carolina at Chapel Hill. 
Julia Love is a reporter for Reuters in Mexico City, where she covers business and migration. During her tenure in Mexico, she has written about tech giants' push into Latin America, China's influence in the region, the business empire of billionaire Carlos Slim and U.S. immigration policies. Earlier, she was a technology correspondent for Reuters in San Francisco covering Google and Apple. She also has worked for The San Jose Mercury News  and American Lawyer Media. She is a graduate of Duke University.
Omar Mohammed is Reuters's East Africa business correspondent based in Nairobi, Kenya. He also has covered business, economics, and politics for Bloomberg in Tanzania and was the East Africa reporter for Quartz based in Dar es Salaam. Earlier, Omar was a Hubert Humphrey Fulbright Fellow and a Knight International Journalism Fellow in Dar es Salaam. Omar currently sits on the board of the Foreign Correspondents' Association of East Africa. He was a finalist for the 2019 Deadline Club Awards as part of Reuters coverage of President Trump's immigration policies.
Asli Pelit is a multimedia journalist with the Voice of America in New York. She covers U.S. markets and reports in three languages (Spanish, English and her native Turkish). Before joining the VoA in 2017, she worked at Vice on HBO and USA TODAY Sports. She also has worked as a correspondent in South America for Turkey's news networks CNN Turk, NTV and TRT (Turkey's national network). She covered the 2014 World Cup in Brazil, the 2016 Olympic Games in Rio de Janeiro, and three Copa Americas (2011, 2013, 2016). She earned a B.A. from New York University in Journalism and Latin American Studies, and an M.A. from the University of Havana, Cuba.
Darius Rafieyan is a producer and reporter for NPR's daily economics podcast "The Indicator" from Planet Money where he's covered everything from America's prison labor system to the economics of pepperoni. Before joining NPR, he covered markets and finance for Bloomberg News and international politics for Al Jazeera English. He also has reported from Iran for The Guardian's Tehran Bureau blog. He is a graduate of New York University's Gallatin School of Individualized Study.
Richard Blake Schmidt covers Asia's business empires for Bloomberg and its Businessweek magazine. Before moving to Hong Kong in 2017, he was based in Latin America, where he worked for Bloomberg's billionaires project, and covered business and politics across the region, including Brazil's Carwash corruption scandal and protests against the World Cup. He previously reported from Central America and Colombia, freelancing for a variety of outlets, including The New York Times, Miami Herald and EcoAmericas. He has a Master's Degree from the University of Hong Kong.
Doualy Xaykaothao is a newscaster at NPR West, based in Culver City, Calif.  She previously worked at Minnesota Public Radio where she covered race, culture and immigration. She also served as a senior reporter at KERA in Dallas,  was an Annenberg Fellow at KPCC in Pasadena, and has worked as a foreign correspondent based in Seoul and Bangkok. In 2011, she was the first NPR reporter to reach northern Japan to cover the Tōhoku earthquake and the Fukushima Daiichi nuclear meltdowns. Her work has won both Edward R. Murrow and Peabody Awards. Doualy was born in Laos, and raised in France and the U.S.
The 10 Fellows, who currently work in business and economics journalism, represent  major business journalism outlets — from small media start-ups and magazines to global newswires, local and national radio.
The 2020-2021 Fellows were chosen with input from a Selection Advisory Committee of senior media executives from organizations such as CNN, ProPublica and The New York Times.
About the Knight-Bagehot Fellowship
Founded in 1975, the fellowships are named for John S. and James L. Knight, brothers who established the Knight Foundation, and Walter Bagehot, the 19th-century British economist and editor of The Economist. They are administered by the Columbia Journalism School. Funds are provided by an endowment from the Knight Foundation with annual tuition scholarships supported by grants from foundations and corporations, which have included The New York Times, Thomson Reuters, Bloomberg, Dow Jones & Co., JP Morgan Chase, Brunswick Group, Goldman Sachs, Gladstone Place Partners, CNN, CBS, McKinsey & Co., Edelman.
This year's 45th Anniversary Celebration of the Knight Bagehot Fellowships, which is the principal source of fundraising for the program, is currently scheduled to be held virtually on October 21. Details will be forthcoming.