2023 Maria Moors Cabot Prize Winners Announced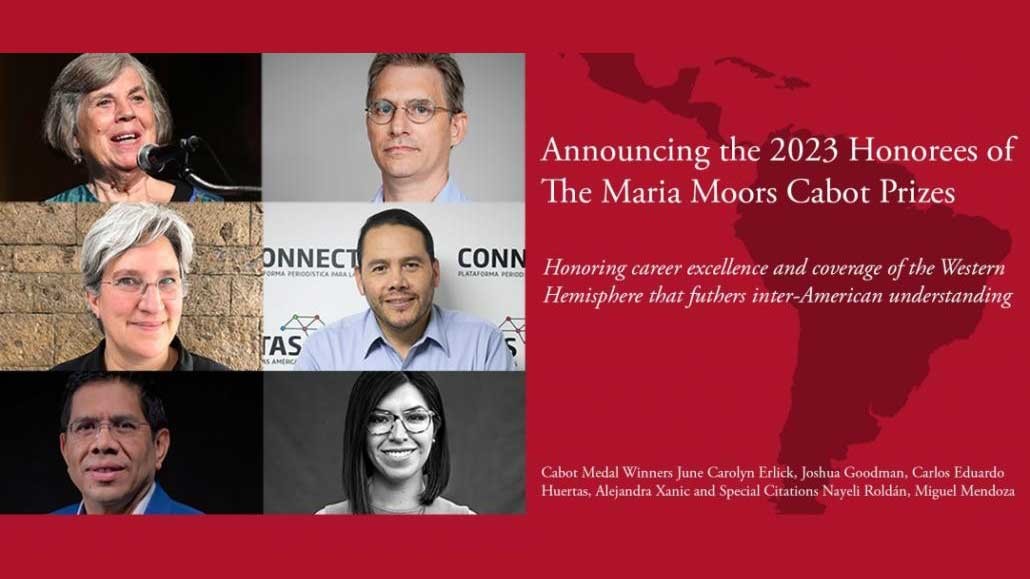 Honoring Outstanding Reporting in Latin America and the Caribbean
Special Citations for Nicaraguan and Mexican Journalists
Columbia Journalism School announced the 2023 winners of the Maria Moors Cabot Prizes for outstanding reporting on the Americas. The 2023 Cabot Prize Gold Medalists are June Carolyn Erlick, ReVista, The Harvard Review of Latin America, United States; Joshua Goodman, The Associated Press, United States; Carlos Eduardo Huertas, Connectas, Colombia; and Alejandra Xanic, Quinto Elemento Lab, Mexico.
In addition, the Cabot Jury selected two 2023 Special Citation recipients that honor journalists in Nicaragua and Mexico, countries where independent journalism is under threat. For their commitment to reporting the truth in the face of attacks, Miguel Mendoza, independent journalist, Nicaragua, and Nayeli Roldán, Animal Político, Mexico, will also be honored.
The Cabot Prizes honor journalists and news organizations for career excellence and coverage of the Western Hemisphere that furthers inter-American understanding. Godfrey Lowell Cabot of Boston founded the Maria Moors Cabot Prizes as a memorial to his wife in 1938. They are the oldest international journalism awards.
"We salute all of the 2023 Cabot Prize honorees for their exemplary careers covering the Americas," said Columbia Journalism School Dean Jelani Cobb. "This work is more important than ever. On behalf of Columbia, congratulations for your achievements in journalism, holding the powerful to account and detailing this important region for audiences everywhere."
"This year, the Cabot Jury wanted to spotlight journalists in Mexico, where reporters are facing systemic challenges from authorities, and Nicaragua, where they are increasingly being forced into exile," said Cabot Board Chair Rosental Alves. "These winners represent the best in reporting on the Americas; for lifetime achievement, daily news reporting, investigative work and innovative journalism. We are all inspired by their accomplishments." 
Each Cabot Prize winner will receive a gold medal and a $5,000 honorarium. The 2023 Cabot Prize winners and the Special Citation recipients will be celebrated at Columbia University's Low Library on Weds., October 18.
2023 Maria Moors Cabot Prizes Winners:
June Carolyn Erlick, ReVista, The Harvard Review of Latin America, United States 
June Carolyn Erlick's 50-year journalism career has been dedicated to fostering understanding in the Americas through excellent reporting on Latin America, first as a foreign correspondent in the region, and then over the last 25 years, as an author and the founding editor of ReVista magazine at Harvard University's David Rockefeller Center for Latin American Studies. She created a platform for groundbreaking voices in journalism and academia through carefully curated essays, photojournalism and dispatches on important issues that don't always attract the media's attention. 
A graduate of Columbia Journalism School, Class of 1970, Erlick served on the board of the Maria Moors Cabot Prizes for nine years, including a period as chair, before stepping down in 2020. Over her long career, Erlick has mentored generations of journalists interested in covering Latin America.
Erlick has also written four books about the region, including "Disappeared, A Journalist Silenced," on the assassination of Guatemalan journalist Irma Flaquer, that helped bring out an admission of culpability in her death by the Guatemalan State. For her dedication to the region, and the journalists who cover it, the Maria Moors Cabot Jury is proud to honor June Carolyn Erlick with a Maria Moors Cabot gold medal.
Joshua Goodman, The Associated Press, United States
For more than two decades, Joshua Goodman has reported from the Americas with groundbreaking, often unique investigations that combine deeply sourced knowledge with keen empathy. At The Associated Press, and previously at other news outlets, he has written trailblazing reports from some of South America's most politically complex countries, including Brazil, Colombia and Venezuela. 
It is in Venezuela where Josh made some of his most important contributions to the understanding of the region. When there was little reliable information emerging from a widely censored country, and when opinion and policy in Washington was completely distorted by partisan politics, Josh continued to dig. He was able to provide sometimes the only accurate accounts of what was happening amid the tragic collapse of one of the region's wealthiest countries. 
Finally, when the abuses of the Nicolás Maduro government made reporting from within Venezuela all but impossible, Goodman proceeded to produce scoops from Florida, Washington and elsewhere.
For his dogged determination, boundless attention to detail, nuanced storytelling and the wide scope of journalistic knowledge he has added to our comprehension of the region's most important trends, the board is pleased to present Joshua Goodman with a Maria Moors Cabot Gold Medal.
Carlos Eduardo Huertas, Connectas, Colombia
A prominent journalist, editor, and news leader, Carlos Eduardo Huertas has made significant contributions to quality investigative journalism in the region. From his early days at Semana magazine to his current role at Connectas, the platform he founded and directs, he has been committed to finding high-impact stories that combine rigorous data analysis with dynamic storytelling. 
For over a decade, Huertas has cultivated a journalistic method that has strengthened the skills of hundreds of colleagues in the region. This approach is clearly reflected in the outstanding journalism found in Connectas. As a result of its capacity to use collaborative networks, the platform has produced highly complex journalistic investigations involving reporters in Latin America and around the world. 
Huertas has also played a key role as an author, editor and mentor in groundbreaking investigations such as the Panama Papers, the influence of Chavismo's oil diplomacy in Latin America, the human trafficking of Venezuelan women for prostitution in South America, and the environmental and human impact of the Trans-Amazonian highway construction. 
In recognition of his unwavering commitment to quality investigative journalism, the Maria Moors Cabot jury is proud to honor Carlos Eduardo Huertas with the Maria Moors Cabot Prize.
Alejandra Xanic, Quinto Elemento Lab, Mexico
Alejandra Xanic has long been among the leading investigative journalists in Mexico. For more than 30 years, she has been uncovering the truth and holding the powerful accountable with impactful and far-reaching reporting. Her groundbreaking investigations range from her days as a young reporter in Guadalajara covering the 1992 deadly gas explosion that ripped apart entire city blocks, to the bribery and corruption that allowed Walmart to build a store near ancient pyramids outside Mexico City. As the first Mexican awarded the Pulitzer Prize, she has become a leader for a new generation doing investigative reporting in one of the most dangerous countries in the world for journalists.
Xanic, as she is known across the Americas, also co-founded the investigative media outlet Quinto Elemento Lab alongside fellow Cabot recipient Marcela Turati. Among the organization's many innovative projects is the new "SocorroBot," a chatbot to help navigate the process of reporting a missing person in Mexico, and the Quinto Elemento MásterLAB, a training program for investigative editors—the only one of its kind in the Spanish-speaking world.
Xanic's journalistic talent is only matched by her generosity in sharing her knowledge of Mexico's transparency law. She is a fierce defender of the right to access information. For her courage, and tenacity, the Maria Moors Cabot Board is proud to honor Xanic with a Maria Moors Cabot gold medal.
2023 Maria Moors Cabot Prize Special Citation Recipients
Miguel Mendoza, independent journalist, Nicaragua
Miguel Mendoza defines himself as a sports reporter. But he spent 597 days detained in a cell where he endured painful torture. He was then sentenced to nine years in prison and his assets were confiscated. The Nicaraguan government took away his nationality and exiled him for fulfilling his mission: informing society about public affairs. 
Mendoza spent 30 years covering some of the most important sporting events in the world. But his life changed when he began posting information on his social networks about street protests and human rights violations committed in his country, and exposing contradictions between the official speeches and actions. 
After his home was raided in June 2021, he was detained and held incommunicado from his family. Mendoza spent months in solitary confinement, subjected to interrogation and physical abuse, until the Nicaraguan government exiled him on February 9 of this year along with 221 other journalists. But that didn't break him: "When they lock you up for your values, they don't defeat you," he said shortly after his release. 
The Cabot Board wants to honor Miguel Mendoza for enduring first-hand violence and persecution in his beloved country – and in his name, all his fellow Nicaraguan reporters facing extreme challenges – with a 2023 Maria Moors Cabot Special Citation for his commitment to the truth in the face of oppression.
Nayeli Roldán, Animal Político, Mexico
For years, Nayeli Roldán has been a journalistic benchmark in Mexico, a country with one of the worst rates of violence against journalists in the world. Under such dire conditions, Roldán carried out investigations about corruption, embezzlement, violence against women, and espionage that both gained her respect, and led her to suffer harsh consequences. 
Co-author of award-winning investigations such as "La Estafa Maestra" with her colleagues from Animal Político and Mexicanos contra la Corrupción y la Impunidad (MCCI), and more recently, an investigation on illegal espionage carried out by the Mexican Army, Roldán embodies journalistic excellence in her country. However, Roldán has faced public diatribes from President Andrés Manuel López Obrador and his acolytes because of her work. This makes her a brilliant example of forbearance among fellow journalists from Mexico, and other countries of the Americas who continue to work under extreme pressure while suffering personal attacks. 
For all this, when independent journalism is being attacked in so many countries of the hemisphere, even by the very authorities that should ensure the safety of reporters, the Cabot Board honors Nayeli Roldán with a Maria Moors Cabot 2023 Special Citation as an example of solid journalism in the face of adversity.
Members of the Cabot Prize Board in 2023:
Jury Chair Rosental Alves, Knight Chair in International Journalism, University of Texas, Austin; Hugo Alconada Mon, investigative journalist, La Nación (Argentina); Juan Enríquez Cabot, chairman and CEO of Biotechonomy, LLC; Carlos Fernando Chamorro, founder and editor, Confidencial (Nicaragua); José de Córdoba, correspondent for The Wall Street Journal covering Latin America from Mexico City; Angela Kocherga, KTEP news director who also reports in the field on border issues including migration, the border security buildup, binational health, and trade; Marjorie Miller, administrator, Pulitzer Prizes, Columbia University; Elena Cabral, assistant dean, academic programs and communications at the Journalism School at Columbia; Boris Muñoz, a Venezuelan-American journalist, author and editor; Tracy Wilkinson, reporter covering foreign affairs out of the Los Angeles Times' Washington bureau; Abi Wright, executive director of Professional Prizes at the Journalism School at Columbia.