2020 Maria Moors Cabot Prize Winners Announced
Honoring Outstanding Reporting in Latin America and the Caribbean
Investigative Reporters, Photojournalist and Audio Journalist Win
July 15, 2020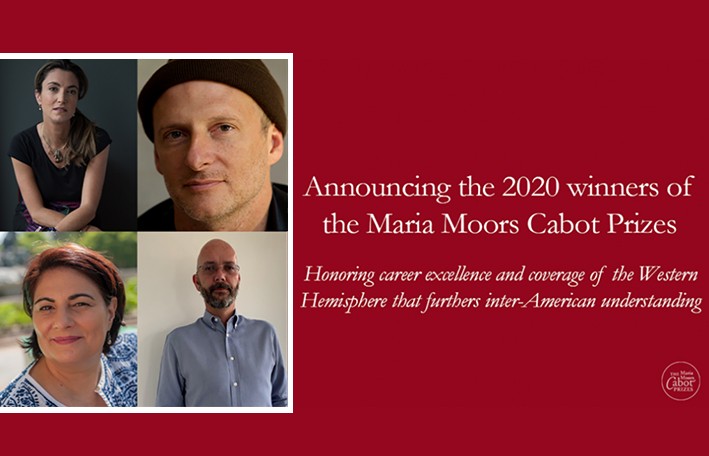 Columbia Journalism School announced the 2020 winners of the Maria Moors Cabot Prizes for outstanding reporting on the Americas. The 2020 Cabot Prize winners are Ricardo Calderón Villegas, investigative reporter, Colombia; Patrícia Campos Mello, Folha de S. Paulo, Brazil; Stephen Ferry, photojournalist, United States; and reporter Carrie Kahn, NPR, United States.
The Cabot Prizes honor journalists for career excellence and coverage of the Western Hemisphere that furthers inter-American understanding. Godfrey Lowell Cabot of Boston founded the Maria Moors Cabot Prizes as a memorial to his wife in 1938. They are the oldest international journalism awards.
The 2020 Cabot Medalists feature two courageous investigative journalists who have come under threat because of their reporting, a dedicated photojournalist and a veteran public radio reporter.
"At a time when journalists are increasingly under attack for doing their jobs, global support for a free press and the free flow of information has never been more important," said Columbia President Lee C. Bollinger. "On behalf of the entire University, I offer this year's Cabot Prize Medalists my congratulations and my gratitude for their brave and tireless work covering the news in Latin America and the Caribbean."
"These four journalists have made tireless efforts to document history in real time, expose corruption and inequities, and bring news and images from Latin America and the Caribbean to further understanding among the Americas. They provide us with a true model for excellence in the storied tradition of the Maria Moors Cabot Prizes," said Cabot Board Chair June Carolyn Erlick.
Each winner will receive a gold medal and $5,000 honorarium. The 2020 Cabot Prize Medalists will be celebrated at a virtual ceremony and conversation scheduled for Tuesday, October 13.
2020 Maria Moors Cabot Medalists
Ricardo Calderón Villegas, Revista SEMANA, Colombia
Over the course of his 25-year-long career, Ricardo Calderón Villegas has become one of Colombia's leading investigative reporters. His extensive investigations have triggered corruption scandals that rocked the country, leading to the removal from office, arrests and prosecutions of dozens of shady officials.
His exposés revealed the luxurious life of military officers jailed for crimes against humanity, and uncovered a major espionage scandal in which intelligence officials engaged in unlawful phone tapping, among other sensitive stories. In one recent investigation, he disclosed that army intelligence officers had been illegally collecting information on the whereabouts and news sources of American journalists and dozens of Colombian reporters.
For his courageous work, Calderón has been repeatedly harassed and received serious death threats. In 2013, he survived an assassination attempt after unidentified assailants shot his car outside Bogotá. In this age of social media saturation, Calderón continues to cultivate a low profile, publishing his investigations anonymously.
Patrícia Campos Mello, Folha de S. Paulo, Brazil
A fearless investigative reporter, Patrícia Campos Mello has been on the frontlines covering the news and seeking the truth for more than two decades. Her outstanding investigations have taken her from war zones to areas where heroic health workers were fighting the Ebola, Zika and now COVID-19 epidemics; from the immediate aftermath of 9/11 in New York City to the underground world of secretive factories of social media disinformation in Brazil.
Throughout her award-winning career, Campos Mello has produced consistently outstanding work that has had a major impact in Brazil, where she inspires other journalists. In 2018, after she published a series about an alleged financial scheme to elect Jair Bolsonaro president of Brazil, she was targeted by a brutal campaign of online harassment and threats and verbally attacked by Bolsonaro, his family and supporters. Even under those harrowing circumstances, she kept the focus on her investigative reporting.
In these challenging times when independent journalism is under attack in Brazil and other countries throughout the Americas, the Maria Moors Cabot Board honors Patrícia Campos Mello as a prime example of a professional journalist who continues to do her job in the face of adversity. There is no democracy without Patrícias, without a free press.
Stephen Ferry, photojournalist, United States
With the patience of an anthropologist and great humanity, photographer Stephen Ferry has dedicated more than three decades of his life to projects with impact that have become models of immersive photojournalism.  
In 1993, he documented the exhumation of the El Mozote massacre in a pine forest in Morazán, El Salvador where the US-trained Atlacatl Battalion - fresh from training at Ft. Bragg - had killed over 800 civilians. Ferry's images of the incontrovertible evidence revealed by the Argentine Forensic Anthropology Team were published in The New Yorker and on the front page of The New York Times.
In 2000, Ferry moved to Colombia to cover Colombia's internal armed conflict. Throughout his impressive body of work, Ferry's photography reveals an almost poetic eye for the tensions inherent in the daily lives of people forced to live at the edge of human endurance, where violence and conflict seem always about to erupt. As a teacher with the Foundation for a New Iberoamerican Journalism, his meticulous work has become a powerful voice, one that has inspired generations of Latin American photojournalists.
Carrie Kahn, NPR, United States
Carrie Kahn has been bringing stories from Mexico and the Caribbean to spirited life on the radio for nearly three decades. With microphone in hand, she began capturing voices of the border region as a local reporter in San Diego in 1994.  Moving to NPR, she was the first journalist from the public radio network to reach Haiti after the devastating earthquake in 2010. She returned repeatedly to Haiti, exposing spendthrift charities whose aid was not helping the needy. As NPR's international correspondent based in Mexico for the past eight years, Kahn has produced deeply-informed narrations of narcotics violence, political turmoil and surging migration.
When the exploits of the kingpin known as El Chapo were making headlines, Kahn's stories recalled the many Mexicans who were kidnapped or murdered by his henchmen.  She journeyed with migrants fleeing from Central America as they traversed perils in Mexico and confronted shifting obstacles at the US border. She recorded the anguish of parents separated from their children and the dashed hopes of deportees. Through the immediacy of audio, Kahn's reporting reveals Latin America to millions of American listeners.
---
Members of the 2020 Cabot Prize Board: Jury Chair June Carolyn Erlick, editor-in-chief of ReVista, the Harvard Review of Latin America at the David Rockefeller Center for Latin American Studies; Rosental Alves, Knight chair in International Journalism, University of Texas, Austin; Juan Enríquez Cabot, chairman and CEO of Biotechonomy, LLC; Carlos Dada, founder and director of the news website El Faro; Gustavo Gorriti, journalist and founder of IDL Reporteros, a non-profit, investigative journalism website; Carlos Lauría, team manager, Program on Independent Journalism, Open Society Foundations; Julia Preston, contributing writer at The Marshall Project, previously covered immigration at The New York Times; Giannina Segnini, director of the Master of Science Data Journalism Program at the Journalism School at Columbia; Ernest Sotomayor, former dean of student affairs, head of Latin American Initiatives at the Journalism School at Columbia; Tracy Wilkinson, reporter covering foreign affairs out of the Los Angeles Times' Washington bureau; Abi Wright, executive director of Professional Prizes at the Journalism School at Columbia.
Six of the nine members of the Cabot Prize Board have received Cabot medals.