Columbia Journalism Names Kristen Lombardi, Award-Winning Investigative Journalist, Director of its Postgraduate Fellowship Program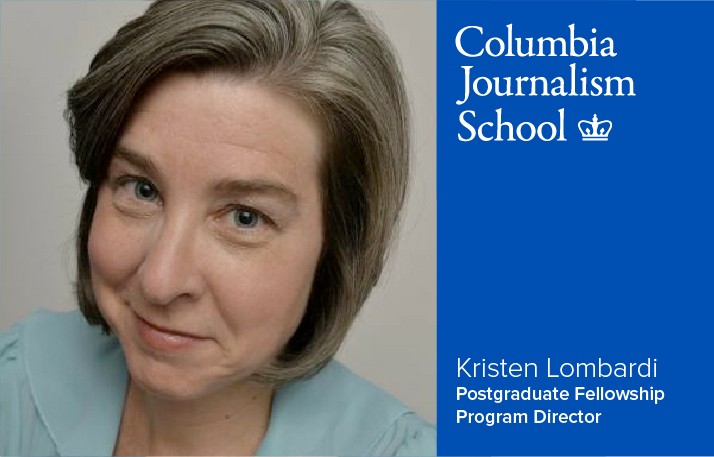 The Columbia Journalism School has appointed investigative reporter Kristen Lombardi as director of the School's investigative postgraduate fellowships. Lombardi will oversee investigations carried out largely by teams of graduates and experienced journalists and faculty.  The Columbia Postgraduate Fellowships offer recent graduates the opportunity to report deeply on matters of urgent public interest and publish their work in partnership with major news outlets such as the Los Angeles Times, The New Yorker, and the Guardian. 
"We are thrilled to welcome Kristen to this new leadership position and are certain she can elevate our postgraduate programs by creating more collaboration, connecting our work to the wider university, building new partnerships and workshops, and, of course, delivering first-class public interest journalism with publishing partners," said Steve Coll, Dean and Henry R. Luce Professor at Columbia Journalism School.
The Columbia Postgraduate Fellowships advance in-depth reporting on pressing, but under-reported stories such as migration, energy and the environment, criminal justice, race and equity in public education, as well as global investigations using large data sets across borders.
 "Columbia's postgraduate fellowships offer a special opportunity for graduates to do substantive, impactful investigative and accountability reporting," said Kristen Lombardi. "I am thrilled to join the program's team and to help Columbia Journalism School build on its foundation to create something unique and enduring for investigative journalism education."
Columbia Journalism School has built out its postgraduate investigative reporting programs during the past five years, adding a public-interests clinical and professional practice to its other curricula and programs. The work is led by outstanding faculty and professional project leaders, including Sarah Stillman, Sarah Carr, Susanne Rust, and Giannina Sengini, the Knight Professor of Data Journalism at the school. Lombardi will take up a newly created position designed to strengthen the programs and support project directors, while also overseeing ambitious investigative work by postgraduate fellows whom Lombardi will mentor directly.
Lombardi is an award-winning journalist with more than 20 years of experience. She joins Columbia from the Center for Public Integrity, a nonprofit investigative news organization, where she has covered environmental and social justice issues. Her 2015 investigation into the Environmental Protection Agency's lackluster civil-rights record for the Center for Public Integrity won the top investigative prize from the Society for Professional Journalists and a special citation by Columbia University's Paul Tobenkin Award, and other recognitions.
Before joining the Center for Public Integrity Lombardi was an investigative reporter for the Village Voice, where she provided groundbreaking coverage of the 9/11 health crisis. Her investigative reports as a staff writer for the Boston Phoenix were widely credited with helping to expose the clergy sex-abuse scandal in that city. Her work for the Center for Public Integrity has received national and regional awards, including the Robert F. Kennedy Award, the Dart Award and the Sigma Delta Chi Award for Public Service.  In 2013, President Barack Obama signed a law addressing some of the problems exposed by Lombardi's "Sexual Assault On Campus" landmark investigation in 2009-2010 by the Center for Public Integrity.
Lombardi was a Nieman Fellow at Harvard University in 2011-12. She graduated with high honors from the University of California at Berkeley and has a master's degree in journalism from Boston University. She has also served as an adjunct Master's Project adviser and professor at the Columbia Journalism School.