Who Should Apply
The Columbia Publishing Course is aimed primarily at recent college graduates interested in a career that will utilize their love of the written word.
Additionally, some students have worked in publishing briefly and would like to broaden their understanding of the field or have decided to make a career change from a non-publishing field into publishing. 
Applicants dissatisfied in their current career path are not discouraged!
All applicants to the U.S. program must have successfully completed all requirements for a B.A. or B.S. degree by the start of the course. Only in certain circumstances do we accept students who have yet to finish their undergraduate degrees.
Most applicants have majored in English and the humanities, but many students have majored in art, economics, business, law, music and the sciences as well.
Students with a demonstrated interest in publishing have always gained the most from the course. Here are just some of the experiences we consider related to publishing:
Publishing internships
Photography, graphic arts, sales or marketing experience
College newspapers, literary journals, blogs, etc.
Bookstore, library and/or office experience
The course does not emphasize instruction in journalism or creative writing. Applicants with writing experience seeking new ways to apply their skills within publishing are encouraged to apply.
How to Apply
The New York course will take place from June 10 to July 18, 2024. Apply here.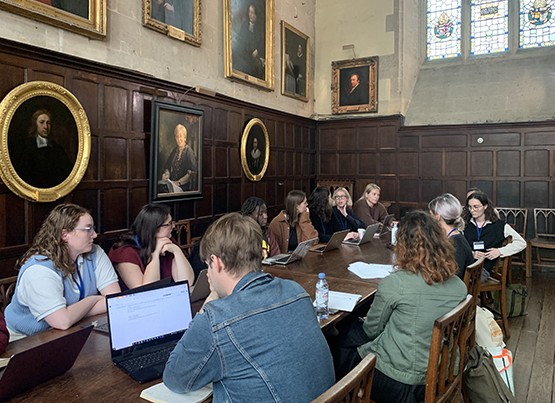 Applicants interested in both the New York and Oxford programs should indicate their first choice of location on their application.
Dual applications must be submitted by the New York Deadline of March 1, 2024.
There is only one application fee even if you apply to both courses.
The major differences between the two courses are geographical location and that the course at Oxford is 100% book publishing, while the New York course has a rigorous two-week magazine component added on.
Admission for the Columbia Publishing Course is competitive, with hundreds of applicants each year for only 110 spots.
Applications are accepted on a rolling basis, so it behooves students to apply sooner rather than later.
Applications are to be submitted electronically starting in November. For detailed instructions, review the "Instructions" page of the online application.
Online application: the application is now open. Apply here.
Nonrefundable one-time application fee: $55. We do not grant application fee waivers.
Active email address: all admission notifications are sent by email.
Transcript(s): PDFs of transcripts from each of the undergraduate and graduate institutions you have attended as a degree-seeking student.
Two to three letters of recommendation: At least two are required. 

You may submit your application even if the letters have not yet been submitted by your evaluators.

Personal essays: One personal statement (two double-spaced pages) and one short answer (one to two paragraphs) in response to the given prompts.
Current resume or curriculum vitae: Preferable a one-page, professional resume that succinctly summarizes your skills, experience and education.
Clips (Optional): Applicants have the option to submit up to two examples of publishing work (published articles, blog posts, reader's reports, etc.). We will not accept hard copy materials.
The board plan covers three meals a day on weekdays only, as well as special events. The board plan is mandatory due to the course's rigorous daily schedule.
Living on campus is optional, but strongly encouraged. Students living off-campus will not be charged the room fee. 
All of the above fees are nonrefundable.

Unfortunately, we have limited funds for financial aid and are unable to provide aid to every student that asks for it. If you would like to be considered for financial aid, please fill out the form when you apply.
My expected/actual degree date is not on my transcript. What should I do?
If you have already graduated, please upload a copy of the diploma showing the same information. If you have not yet graduated, ask your registrar to provide a letter certifying your expected date of graduation and upload the transcript and letter together as a single document.
Are there any additional application requirements for international students?
The application requirements are the same regardless of your country of origin. However, if an official transcript is not in English, you must submit both the official transcript and a verbatim English translation, either from the institution or from a certified translation service. If your letters of recommendation are written in a language other than English, please send the originals as well as certified, verbatim English translations from a translation service.
What kind of visas do international students need for CPC NY/UK?
Because the course is so brief and participants are not enrolled in credit‐bearing courses, international participants are generally ineligible for student visas and attend the program as tourists. We recommend that you get in touch with your local consulate to discuss the specifics of your situation.
Do you require GRE/TOEFL/IELTS scores?
No, we do not look at standardized test scores when making admission decisions.
What degree, certificate, or academic credits do students receive upon completing the course?
At the end of the course you will receive a certificate to indicate you have successfully completed the program. If future employees need it, we can also provide a letter certifying that you took the course. The CPC is a professional program so we do not provide course credit or confer an academic degree.