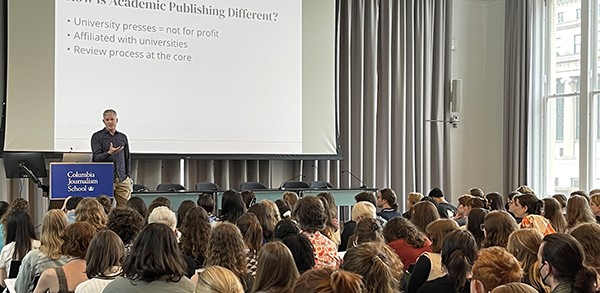 Our intensive, six-week program in New York – taking place from June 10 to July 18 in 2024 – prepares students for entry-level jobs in all aspects of book, magazine and digital publishing through daily lectures and workshops.
For more than 77 years, the Columbia Publishing Course, along with its sister program in Oxford, U.K., has been recognized as the premier training ground for those aspiring to work in publishing.
What You'll Learn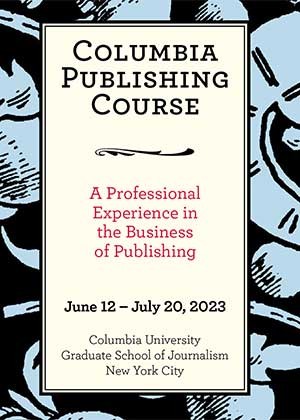 Through a rigorous schedule of lectures, seminars and workshops, students are immersed in every aspect of the publishing world.
You spend time with industry professionals and instructors after classes, during meals and at evening discussions. For six weeks, you live with like-minded colleagues; the friendships formed – many participants say, "I found my people at the CPC" – are often life-long and impact their career just as much as the curriculum.
The New York course dedicates two weeks entirely to digital media and magazine publishing. If you are solely interested in book publishing, we recommend our sister course at Oxford, where you'll be introduced to everything that's offered at the book publishing portion of the New York course.
For more information, click at right on the image of the cover of the 2023 program brochure. The 2024 brochure will be available in early 2024
The Program
The first two weeks of the course are three lectures and/or small seminars a day.
Students learn every element of the book publishing process: editing, managing editing, subsidiary rights, art direction, publicity and marketing to name just a few.
They are given an intensive editorial assignment in the form of a reader's report that involves evaluating an original to-be-published manuscript from an active editor or literary agent.
In the third week, students embark on a six-day workshop. The class divides into small groups of 10 and each group creates seven books from the ground up.
Students work one-on-one with a professional publishing veteran to make their resume and cover letter stand out among applicants.
Attendees benefit from the lifelong network they establish at the course with their cohort of 110 students.
In addition to book publishing, the course in New York dedicates two weeks entirely to magazine and digital media publishing.
Professionals in the field teach every facet of print and online publication: business, editorial and design, marketing, promotion and distribution.
Through lectures and assignments, students learn what it takes to publish a successful magazine and launch a profitable website.
The magazine and digital publishing portion also includes its own workshop where students create hypothetical publications in categories such as fashion, food, shelter, teen, travel or entertainment.
In super-groups of 16, students build out their magazine by establishing editorial mission statements, design layouts and wireframes.
Each group also creates social media, lines up advertisers and decide on subjects for their publication's articles.
All of this is done under the watchful eye of an experienced faculty doing this work in the real world.
Workshop Results
At the end of both workshops, top publishing professionals read and evaluate each group's work, giving constructive criticism based on their real-world work experience.
Many students have gone on to share their work in interviews to illustrate everything they learned during the course.
Kickstart Your Career in Publishing
Although course graduates are not guaranteed job placement, 95% of the program's alumni find positions in the publishing industry.
Students work one-on-one with a professional publishing veteran to make their resume and cover letter stand out amongst applicants.
Human-resources professionals speak with students about interviewing and the process for finding a job.
Attendees benefit from the lifelong network they establish at the course with their cohort of 120 students.
What Students Say
I'm so grateful for everything the publishing course taught me and all of the doors it opened during my job search. I wish you and the rest of the CPC team all the best, and I'm excited to continue my journey in publishing!
—Madeline Alsup, '22 CPC NY, Editorial Assistant, St. Martin's Press, Macmillan
I wanted to write to you to express both my gratitude and how much the course meant to me. Thank you so much for organizing such a wonderful program, with informative speakers, fabulous mentors, and a truly amazing group of peers. I feel incredibly lucky not only to have learned everything I did the last six weeks (my notebook is completely full!), but to have met such an incredible group of people. These connections and new friends have genuinely changed my life.
—Ellie Wells, '23 CPC NY, Publishing Assistant, PublicAffairs
I'm so grateful that you and CPC were a part of my discovering this career path. It's a fantastic job, it's with fantastic people, it's absolutely my calling, and unless something drastically changes, I'm staying right here until I retire.
—Kathryn Kenney Peterson, '16 CPC Oxford, Designer, Simon & Schuster
Thank you for working so hard to ensure the CPC maintains its high standards throughout the pandemic. I am grateful that you and the staff were still able to present an inspiring and informative array of speakers. I've learned so much about the inner workings of the publishing world, and I have never been more excited to start my career.
—Louise Strange, '21 Virtual CPC, Assistant Literary Scout, Maria B. Campbell Associates
The CPC experience is unmatched, and I am wholeheartedly inspired by all of the advice, expertise, and support I gained during this past month. I couldn't be more grateful to have been a part of such an intelligent, book-loving group of people. This has been an incredible experience that makes me feel more prepared for my future than ever and I will remember the advice that I've learned at CPC throughout the rest of my life.
—Corissa Hollenbeck, '21 Virtual CPC, Editorial Assistant, Wiley, UK
Your dedication to the course and the well-being of its students is so comforting to see! Entering publishing can be intimidating, but I know everyone agrees that you have made this journey so much easier to navigate.
—Ally Purcell, '21 Virtual CPC, Editorial Intern, Pegasus Books
The sales team I'm working with at PYR has me feeling as though I've won the publishing lottery! The entire experience has been a dream, and I'm so grateful for the opportunity to work with not just an amazing core team, but with publishers, editors, publicity and marketing people who really care about what they're putting into the world and want to make things better.
I wouldn't have gotten to this place in my life without your support, and I cannot thank you enough for that. I'm eternally grateful for the CPC course, the connections and memories I made there, and your guidance post-course that encouraged me to stretch what I thought I could do.
—Riley Hubby, '20 Virtual CPC, Sales Assistant, Penguin Young Readers
My expectations for the course were completely blown away. I learned so much from all of the people we got to meet, the assignments and, of course, you.
—Daniela Atmadjian, '20 Virtual CPC, Sub-editor, Thomson Reuters, Global Pictures Desk
I cannot begin to express my gratitude for this course. I have never felt so surrounded by people with the same passion and energy that I have for books...Thank you for figuring out a way to hold the course even during a global pandemic...It was everything I dreamed of and more. Every speaker, mentor and adviser was absolutely fantastic. I feel so inspired to begin my career in books and I cannot wait to see what the future has in store for all of us.
—Grace Garrahan, '20 Virtual CPC, Editorial Intern, Pegasus Books
[This course] was truly life-changing, and I could not be more excited to continue my journey in publishing armed with the knowledge I gained from the course. Every lecture brought something new and exciting to the table, and I loved learning from such a wide variety of people in the industry. I feel so lucky to have been a part of it, for the friends I now have, and the relationships I made with mentors and lecturers and staff alike.
—Kitanna Hiromasa, '20 Virtual CPC
I thoroughly enjoyed CPC. What I learned there and the connections I made were invaluable, and I finally feel like my career is on the right track.
—Kevin Zambrano, '19 CPC, Executive Assistant to the CEO of Kevin Anderson & Associates
My time at the Columbia Publishing Course was amazing and very informative, but the best thing that came out of it was definitely the awe-inspiring, wonderful people I met, from my fellow students to the excellent faculty members. It's an honor to be able to call myself a graduate of the Columbia Publishing Course.
—Won Young Seo, '19 CPC, Executive Assistant, Yen Press
I thoroughly enjoyed the course, and would not be an editorial assistant at HarperCollins if it weren't for the program. I feel so lucky to have had the opportunity to attend CPC and am so, so happy at my new job! Every day is different, and working with authors and reading manuscripts is truly a dream come true.
—Maddie Pillari, '18 CPC, Editorial Assistant, HarperCollins
Thank you for giving me the opportunity to participate in the Columbia Publishing Course this summer. Words cannot describe how valuable I found this experience to be. Your help with exposing us to the most incredible experts and resources within every aspect of the publishing industry was invaluable.
— Allison Green, '18 CPC, Managing Editorial Assistant, Simon & Schuster, CPC 2018
My acceptance into CPC changed my life and pointed me in the right direction with my career. Thank you so much for your ongoing support and work with not only me, but all of your students…I cannot express my gratitude for the program and the relationships that have been built because of it.
—Emily Chertow, '18 CPC, Community Manager, The Washington Post
Who We Are
Originally founded in 1947 as the Radcliffe Publishing Course in Cambridge, Massachusetts, the Columbia Publishing Course moved to Columbia's School of Journalism in 2001, where it has continued to thrive in the heart of the American publishing industry.
Over 100 leading publishers, editors, design directors, advertising experts, literary agents, publicists and writers, many of whom graduated from the course, come to the course each summer to work with students.
Many speakers are course regulars; others are invited because they set trends or challenge traditional methods.
The faculty is made up of publishing executives, successful entrepreneurs, consultants to the industry, and others who have had illustrious careers in all aspects of publishing.
For thirty‐one years, Shaye Areheart worked as an editor at Doubleday, now Knopf Doubleday and the Crown Publishing Group, both divisions of Penguin Random House. She began her career as an assistant to the editor and rose through the ranks to editor, senior editor, executive editor, editorial director and publisher. She was given an eponymous fiction imprint in 1999; her authors have included Alice Hoffman, Gillian Flynn, Lisa Unger, Chris Bohjalian, Roland Merullo, Douglas Adams, Michael Jackson, Ray Bradbury, Barbara Vine and Jeanne Ray.
As a graduate of the Columbia Publishing Course, you'll get access to an incredible alumni network, including these distinguished past attendees who still teach at the course:
Lee Boudreaux, Executive Editor Doubleday
Alison Callahan, Executive Editor, Gallery Books
Morgan Entrekin, President and Publisher, Grove Atlantic
Madeline McIntosh, CEO, Penguin Random House US
Jordan Pavlin, Executive Editor, Knopf
Wendy Lamb, Founder & Consulting Editor, Wendy Lamb Books, PRH
Paul Samuelson, Deputy Director of Publicity, Simon & Schuster
Justine Goode, Designer, MSNBC Digital, NBC News
Stay Informed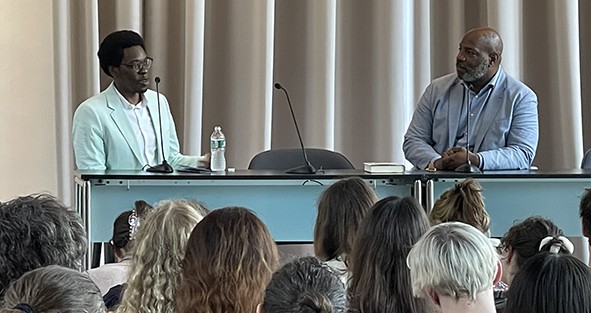 Please like us on Facebook and follow us on Instagram to receive event updates.
We visit many colleges and universities annually. Please let us know if you would like to see us at your school next year!
Questions?
Contact the course at [email protected].
Bard College
Boston University
Boston College
Brandeis University
Columbia University
Georgetown University
Harvard University
Howard University
Mount Holyoke College
Washington & Lee University
College of William & Mary
University of Virginia
Vassar College